Transition to University- Alumni Panel Discussion Series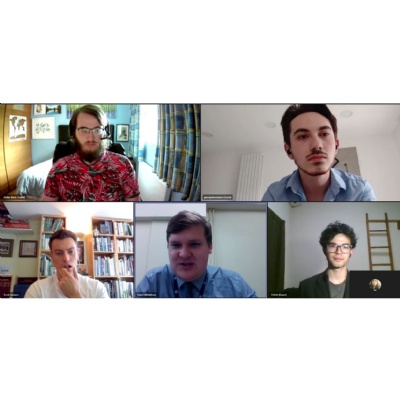 At the end of the Summer term, a series of virtual discussions aimed to give Year 13 students an insight into university life were organised by the Sixth Form Leadership Team and the Society Office. From 8th June - 6th July, several Old Redingensians joined us each week as they shared their experiences at university.
The first discussion, five things I wish I'd known before Freshers' Week, featured a virtual panel of Old Redingensians who shared lessons learned and advice for navigating the first week of being on campus at University. Participating in the panel were OR Charles Knight (2009-2016), Luke Russell (2018-2020) and Tads Ciecierski-Holmes (2009-2017). Charles Knight, who is studying Neuroscience at St Andrews, spoke about the importance of having a good circle of friends, "the key thing you should focus on during the first weeks is who are you going to surround yourself, who will you live with, who you socialise with and are they going to help get you through the next 3 or 4 years?"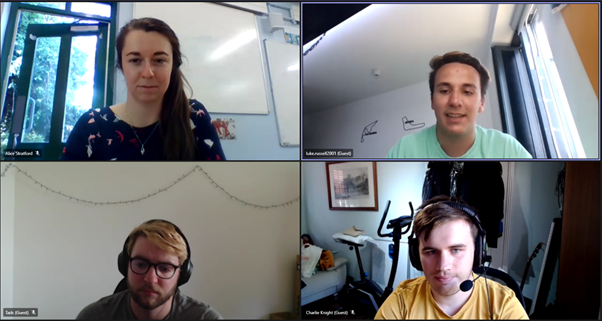 The second discussion of the series focussed on mental health and wellbeing. OR Jake Taylor (2009-2016), OR Jack Davis (2013-2020) and OR James Yang (2010-2017) discussed the ways in which you can look after your wellbeing whilst away from home. Jack, who is studying Mathematics at the University of Cambridge spoke about his experience during the first term of university as he adapted to being away from home for the first time, "I would encourage being involved in several university societies to build friendships. Do not be worried to talk to people if anything is going wrong… know it is OK to tell someone you are not OK."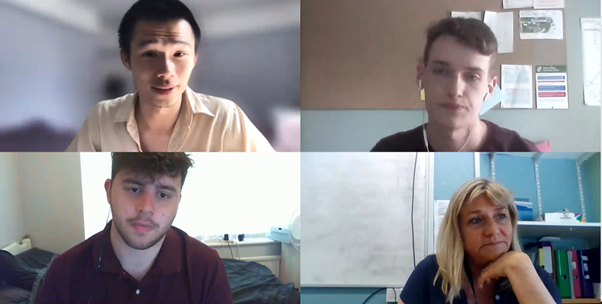 During the third panel discussion, ORs George Lewendon (2011-2018), Aidan Black (2010-2017) and Scott Jackson (2009-2016) reflected on their year in industry. Scott, a graduate of the University of Exeter, started a placement year in the insurance department at the Mercedes Headquarters in Milton Keynes in 2018. He commented on the application process stating, "it's a long and difficult process…you go through online psychometric testing, phone and video interviews, assessment centre etc, but it was great practice for applying to a graduate scheme…if you can get it, it's definitely worth it."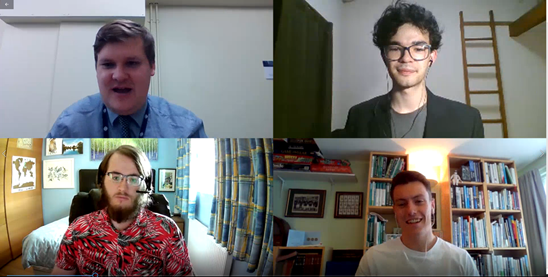 Russ Houghton (2012-2017) who is studying International Relations at the Tokyo University of Foreign Studies also spoke about his decision to study in Japan, "Originally, I was only going to come to Japan for the summer for the Olympics, take a gap year and volunteer". Russ heard about the MEXT Scholarship, a fully-funded scholarship for international students and decided on doing his whole degree in Japan.
OR Luke Russell (2018-2020), Tads Ciecierski-Holmes (2009-2017), Roy Zhang (2008-2015) and James Lin (2011-2018) participated in the penultimate discussion of the series and shared their tips on studying and managing workload.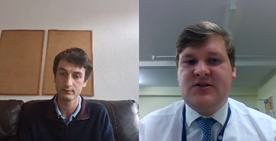 The final panel of our pre-University series was on clearing, strongly recommended for those that even have a small chance of missing grades or for those attempting to secure a different offer.
OR Rory McBride (2008-2015) joined Mr D Whitehorn (History Teacher) to speak about the clearing process. When asked whether applying through clearing affected his university experience, Rory replied, "there were all sorts of people who had been through the same process…everyone in my hall were students who had come to the university through clearing or adjustment. I was still able to go along to the intro week, fresher's week and other events at the university… I didn't actually miss out on anything."
Mr D Whitehorn reiterated, "the main message from today is this; once you get to university, no-one really takes into consideration how you got there…it's a perfectly normal and acceptable thing to do, and it doesn't limit you from advancing in further education…clearing may be the one way to get to the university for you."
Each discussion was followed by Q&A sessions where students were able to ask a wide range of questions, getting specific advice from Old Redingensians.
Mr A Lloyd (Head of Sixth Form and English Teacher) commented:
"This has been a fantastic opportunity for current students and alumni to connect and to learn from one another. I am hopeful that this new initiative is something we can continue to do in future years. My thanks go to the former students and staff who provided such valuable insight to our Year 13s as they prepare for their life beyond Reading School."
Mr D Whitehorn (Head of Sixth Form Transition and History Teacher) added:
"Thank you so much for giving up your time to help support our students as they go off to University. In such uncertain times, it was great to be able to draw on your experience to help reassure students and give them insight into University life. You were all insightful and thoughtful while also providing an entertaining perspective on the experience of University."
Thank you to all the Old Redingensians who participated in this series. This is the first year, we have run the Transition to University Series, and we were delighted to welcome back many Old Redingensians who volunteered to share their experiences and insights in preparation for university. Thank you for paying it forward.
Special thanks to Piatrice Hutchinson (Society Assistant) for coordinating this series.
If you would like to share your university/career path and experience beyond Reading School, please get in contact with Jas Chhokar (Society Manager) or Piatrice Hutchinson (Society Assistant) at alumni@reading-school.co.uk. Our OR community is growing and allows us to support existing and future students and undergraduates. We encourage ORs to please sign up to Reading School Alumni Society to select areas you would like to mentor or volunteer in.
We wish our students collecting their results next week the best of luck.
#OldRedingensians #WeAreRedingensians #ReadingSchoolFamily #ReadingWay #BeyondReadingSchool #RSKeepInTouch #Careers #Universities