Reading School Sixth Form Open Afternoon for external students - Thursday 25th November 2021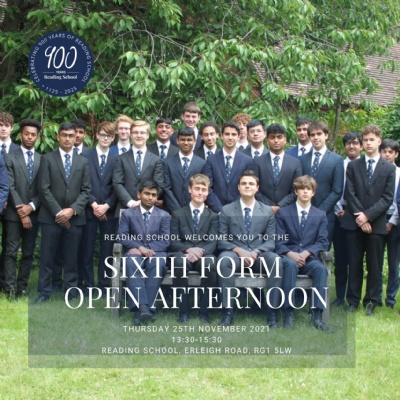 Join us for our Sixth Form Open Afternoon on Thursday 25th November 2021 from 13:30-15:30
We are delighted to welcome external students to the Reading School Sixth Form Open Afternoon. Please join us to learn about your Sixth Form subject options and start planning the next stage of your education journey.
Sessions
At our Open Afternoon, visitors can opt to join us at one of two sessions. These take place as follows:
Session 1 at 13:45
Session 2 at 14:40
Please arrive 5-10 minutes before your tour starts!
During each session, you will have the opportunity to:
Take a tour of our brilliant facilities
Learn about courses you are interested in and witness them in action
Speak to students and staff about life at our sixth form and what to expect
Attend a talk by the Headmaster, Mr AM Robson and the Head of Sixth Form
Learn more about the extraordinary opportunities available beyond the classroom and how we support students to help them succeed
How to book
You must register for this open day. Click here to register: Sixth Form Open Afternoon- November 2021
Booking is on a first-come first-serve basis, so we recommend registering for your preferred session as soon as possible.
We advise all visitors to take a lateral flow test prior to visiting us and recommend the use of face coverings.
Please enter via the Erleigh Road entrance. Unfortunately, parking is not available on-site.
Here are some testimonials from previous sixth formers:
"I decided to move to reading from Leighton park school in Year 12 after achieving 4A*'s 4A's and 2B's at GCSE. I chose Reading School because of its academic excellence and ability to allow you to achieve your best. The transition was smooth and this was particularly helped by teachers and my peers who accommodated me and allowed me to feel at home."
Year 12 Fergus F (2019)
"I decided to move from Reading Blue Coat School to Reading School in Year 12. With the help of both teachers and peers, I was able to settle in quickly and adapt to the Reading School lifestyle. My tutor was very supportive, who ensured I was facing new challenges to ensure I could grow as a student. The friends that I developed were always working hard in and out of school, which acted as motivation for me to push myself. Every student at the school wants to strive and work hard, which along with the teaching allowed me to improve in the subjects I was studying."
Year 12 Abishek K (2019)
For further details about the Open Afternoon and the Sixth Form, please click here: Sixth Form Open Evening 2021
#WeAreRedingensians #ReadingSchoolFamily #SixthForm #OpenDay