Old Redingensians Remembrance Sunday Service - Sunday 14th November 2021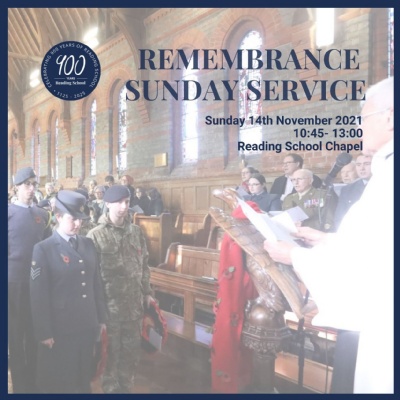 Join us on Sunday 14th November 2021 from 10:45am
We will be holding a service to remember the service and sacrifice of all those that have defended our freedoms and protected our way of life. Especially those fallen Old Redingensians.
We remember the Armed Forces, and their families, from Britain and the Commonwealth, the vital role played by the emergency services and those that have lost their lives as a result of conflict or terrorism.
The service will take place in the Chapel from 10:45 am.
The service will be led by the Rev Clive Windebank OR (1952-59) and the sermon preached by the Rev Martin Hayward OR (1956-64)
To RSVP to this event, please click here: Reading School Remembrance Sunday 2021
Light refreshments will be served after the service in the School Refectory from 11:30.
Parking is available on-site in the main school car park opposite the Chapel. Please use the Erleigh Road entrance.
To ensure the safety of our guests, we request that all attendees take a lateral flow test 48 hours before the event and only attend if the result is negative. This includes those that have already been single or double vaccinated.
Face covering are recommended as they can reduce the spread of infection. Please use your judgement in deciding where you should wear one.
Please note that photographs and footage may be taken and used for social media and in our school magazine and communications. If you (or your guests) do not wish to be photographed, please contact us at events@reading-school.co.uk.
If you have any other queries, please contact events@reading-school.co.uk
WeAreRedingensians #ViaRedingensis #RemembranceSunday2021 #lestweforget #ReadingSchoolFamily #BuildingGoodMen #OldRedingensiansAssociation