​​​​​​​​​​​​​​Branson R (11S) wins 2021 Reading Foundation McIlroy Essay Competition​​​​​​​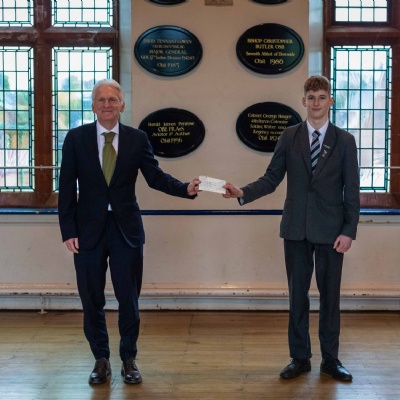 We are pleased to announce that Branson R (11S) has won the annual McIlroy Essay Competition. 
His response to the title: "Happiness Is…?" was anonymously judged by the panel, drawn from the Reading School staff and members of the Reading Foundation, to be a terrifically inspiring and well-expressed piece of writing. It will be published in a future edition of the school magazine, Floreat Redingensis 2022, and on the school's website. 
Branson said,
"I am delighted to have won the McIlroy Essay Competition. I decided to take part when I was isolated up in the lake district with my dog over the summer and had some time to stop and write. It was a great chance to put my mind to something academic during the holidays and a great practice of long-form writing which will help with EPQs next year. I think the competition is a great chance for you to write about something you are passionate about, and I think everyone should have a go because writing in this form is a great life skill to hone before university."
The McIlroy Essay Competition has been running in its current format since 2013, and the English Department would like to thank the Reading Foundation for its continued generous support and funding of the £250 prize.
Once again, students from across all the year groups took up the challenge, and the panel enjoyed carefully reading each one of the submissions to the 2021 competition. Thank you to every student who invested time, thought, and skill in crafting an essay.
We all passionately believe in providing a wide range of opportunities for Reading School students to express their thoughts and feelings creatively and reflectively. This is just one such outlet.
A special thanks to Reading Foundation for its generous support of the competition and funding the £250 prize.
To read Branson's winning essay, please click here: Happiness is a man's best friend
The competition will open again for our current cohorts during the Summer Term 2022.
#WeAreRedingensians #ReadingSchoolFamily #ReadingWay #RSEnglish #ReadingFoundation #English #McllroyEssay