Old Redingensians House Giving Competition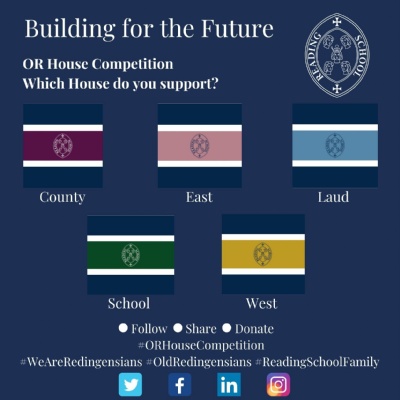 In advance of our Grand Reunion Day on Saturday 9th July, Old Redingensians will go head-to-head in a bid to raise money for the Building for the Future- 365 fund in honour of their former House.
The House and Boarding ethos at Reading School has been a key ingredient in creating a feeling of belonging and community, whilst creating healthy competition in a friendly, secure and safe space. For generations House Competitions have been held on a termly basis offering a range of opportunities and challenges in academics, arts and sports. House Captains have played an integral part in leadership and supporting activities and Heads of House. We are proud this enables integration of pupils across each your group and embed the Reading Way core values.
Our goal is to recreate the fun competition between Houses and reignite the spirit of House competitions. As an OR, we invite you to make a gift to Reading School in honour of your former House - County, East, Laud, School and West. Please note that if you were a boarder and were not in any of the 5 houses, please donate to the Boarders House.
Your donations up until Friday 8th July 2022 will count towards your House success which is based on both:
The House that raises the most money
The House with the highest participation
The winning House will be announced at the Grand Reunion Day and an OR House Cup will be available for photos.
If you would like to donate, please click here: OR House Competition House | Reading School Alumni Society (reading-school.co.uk)