New York Times bestselling author, Taran Matharu visits Reading School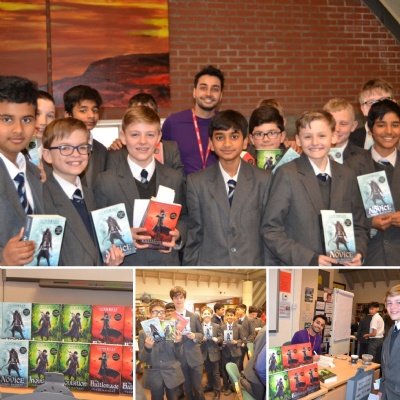 New York Times bestselling author Taran Matharu gave us the big bang finale to Book Week we had hoped for...
Taran Matharu started writing at the age of 9 and began writing The Novice, the first book in the Summoner series, on Wattpad at 22. After reaching several million reads, it was eventually published and translated into 14 languages. Taran revealed some thrilling news during his workshops with Year 7. He is currently negotiating a TV series based on the Summoner books with Seth MacFarlane, creator of Family Guy, American Dad and Ted.
The Year 7's were treated to an insight into how Taran came up with the ideas behind his books and then tried the method themselves to create ideas for their own stories.
Taran also attended Book Club during his lunch break and went head to head in a thrilling quiz based on his books.
"I really liked the workshop and I have started to think of ideas for a story. Thank you Taran Matharu" Uday (7W)

"I really liked meeting him in person and doing the quiz about his books" Manan (7W)

"The workshop was fun and very enjoyable as there was a lot of interaction" Ajitesh (7W)
This is Taran's second visit to Reading School and he said:
"It is one of the best schools he has visited as the pupils are always engaging and a pleasure to work with."
We are extremely grateful to Taran for fitting us into his busy schedule, having to rearrange the original session because of the snow, and we would also like to sincerely thank, Mrs A Jackson and Mrs L Kesteven for all their hard work in arranging book week.