Inspire Lecture on Monday 10 Sept 2018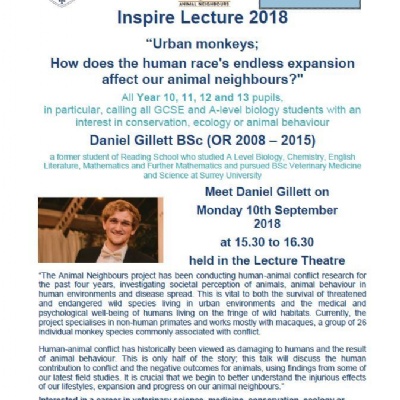 "Urban monkeys;
How does the human race's endless expansion affect our animal neighbours?"
All Year 10, 11, 12 and 13 pupils, in particular, calling all GCSE and A-level biology students with an interest in conservation, ecology or animal behaviour are invited to attend an Inspire Lecture with Daniel Gillett BSc (OR 2008-2015), a former student of Reading School who studied A Level Biology, Chemistry, English Literature, Mathematics and Further Mathematics and pursued BSc Veterinary Medicine and Science at Surrey University.
Taking place in the Lecture Theatre from 15.30 to 16.30 on Monday.
For further information please contact Mrs J Pickering or Mrs J Chhokar or click link to Daniel Gillett - Inspire Lecture
To confirm attendance please complete the link: Attendance Sheet