Reading School Bridge Club Update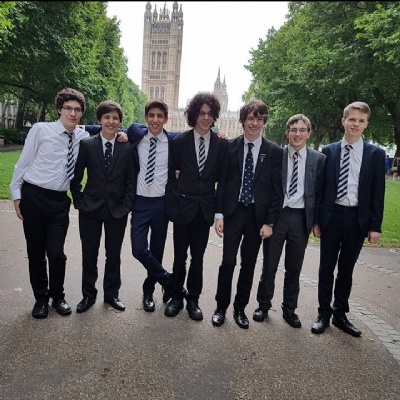 - Bridge at the House of Lords
- A Tradition of Excellence Continued
- Reading School boys Top In Championship Pairs
Bridge at the House of Lords
On Wednesday 19th July, 7 year 12 boys from Reading School (Nathan Galpin, Jack Lawrence, Edmund Lea, Dominic Cooke, Noam Rosenbaum, Euan Sarson, and David Fryer) went to the House of Lords to play bridge against their Lordships. The group were treated to a tour of the house as well as a mild snack in the canteen to complement their trip. The majority of the day was spent with Reading School pitching their wits against other schools and members of the House of Lords' bridge team. Students played against peers such as Baroness Henig and Lord Skelmersdale and held their own. Though no official scoring was done, Reading School was extremely successful. We'd like to thank Mrs Honickberg for organising this trip and introducing us all to bridge.
A Tradition of Excellence Continued
On the 8th of September, the annual bridge Player of the Year competition ended. Among the top ranks were some ex-Reading School Students. Mike Bell and David Gold finished in 3rd and 5th place respectively making the top 5 bridge players in the country 40% Reading School Boys!
This tradition of bridge excellence is facilitated by Judy Honickberg and Steve Pedlow as they give boys their first introduction into the world of bridge. The school currently has a thriving and growing bridge club and have seen recent success.
Reading School boys Top In Championship Pairs
At the recent National Junior Teach-in in Loughborough, held from the1st to the 3rd of September, Nathan Galpin (School Captain) and Jack Lawrence (School House Captain) came first in the Championship Pairs event winning the G.W Arnott-Davidson Trophy (pictured). Last Thursday 7th September, the same pair placed ninth nationally in the EBED Autumn Pairs event.
There is much to look forward with 5 boys heading to Wallingford later this month for a pairs event and the school set to enter a team in next year's School Cup in March where Nathan Galpin, Jack Lawrence, Dominic Cooke, and Edmund Lea will represent the school.
It's fair to say that bridge at Reading School is by no means boring.
ontent for your news story here.