House Music 2017 - Winners... SCHOOL!!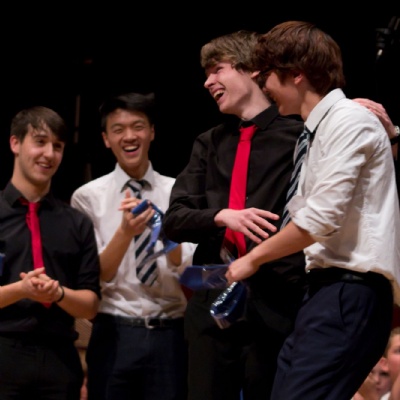 On the evening of Sunday 12th November over 1000 people, students staff and parents assembled for the annual house music competition. This was an evening of firsts, with this growing event being held for the first time in The Hexagon and with Laud House fielding all teams and players (having only sent a band and soloist the previous year). After weeks of hard work and a purposeful final day of rehearsal, the lights went down, and the moment of truth had arrived.
First up were East House anxious not to come fourth for the third year in a row. They began with a seriously on-point classical guitar quartet, followed by Oliver Quinn on violin accompanied by Ryan Wong, who also did the inspiring large ensemble arrangement of Elbow's "One day like this". Alex Caballero led from the front, both taking lead vocal for the lounge arrangement of Estelle's "American Boy" and then showing serious skill in his guitar solo. East then concluded with their large ensemble, and as the final chorus rang out the stage had been well and truly set.
Then came West house, kicking off with an energetic Beatles medley, following up with Lucas Kirby's rousing and virtuosic Pirates of the Caribbean and Ewan Millar's stupendous oboe playing. We wish him well in the second round of BBC Young Musician of the Year. The string quartet fizzed with their Mozart finale and the house concluded with their emo version of Owl City's "Fireflies".
Before the interval came Laud house, playing the whole set for the first time. For such a young house with was so heartening to see how well they rose to the challenge under the leadership of George Lewendon. Starting with Toto's "Africa", they also including a charming barbershop rendition of "Wimoweh" and featured some electric lead vocals from Alex Essery for Britney Spears' "Toxic". Lucas Fiakkas made good on a seven-year decision to learn Debussy's "Claire de Lune", and star of the evening was Thomas Adams, who lead many of the groups and played a deeply emotive 'cello solo accompanied with wonderful maturity by 8L's Sam Ou.
After the interval came School House, led by Jack Lawrence and making full use of the mighty piano talents of Roy Wang. George Skeil, a hugely promising talent in year 7 took solo and small ensemble duties between the three of them. Many who had not heard him before were spellbound by George Chen's haunting voice in his high camp performance of "Holding out for a hero". The house concluded with a polished and intricate arrangement of two tunes from Jeff Wayne's "War of the Worlds".
Finally County house made their offering, led by Noam Rosenbaum who was brilliantly accompanied on the flute by Benedict Bradley, the house showed real range. They began with a fiery Latin tune for sax quartet and through a Reggae cover of "Walking on the Moon" finished off with an emotive rendition of Leonard Cohen's "Hallelujah"
After a quick burst of "Sing, Sing, Sing" by the jazz band, our adjudicator Gwyn Parry Jones stepped up to make his judgement. He praised the boys for their talent, teamwork and vision before awarding the prizes. George Skeil was presented with "Most Promising Junior Musician", a prize he won in the prelims. Best band went to East House, best large ensemble for the third year in a row went to West House. Then the overall positions were announced, with the first four positions being incredibly close.
5th - Laud
4th- East
3rd - West
2nd - County
1st - School
Jack Lawrence took his lap of honour singing with the big band for "Ain't That a Kick in the Head?".
Thanks go to Neil Goulding, the Friends of Music and RSPA, Mr Robson, Mr Newman, and of course, adjudicator Gwyn Parry Jones.