We Will Rock You!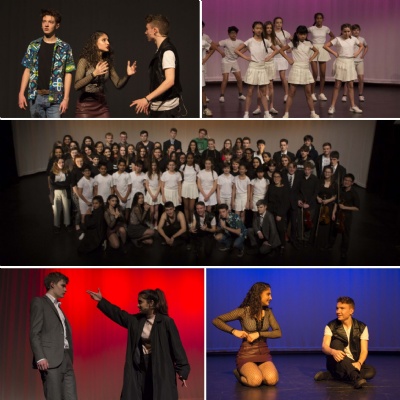 After five months of intense preparation...
last week over 90 students from Reading School and Kendrick School descended on the Whitty Theatre for the final rehearsals and performances of "We Will Rock You!" in aid of No5 Counselling – one of Reading School's nominated charities for 2017-18.
Generously funded by the Reading Foundation Award Scheme and the Old Redingensians Association, this was the first ever joint production between Reading School and Kendrick School as well as Reading School's first school production in nearly 15 years. Performers ranged from Years 7-13 and we had over 70 students on stage, with another 20 completing various roles in the show.
The entire project was solely organised and directed creatively by students of both schools and superbly coordinated by Sean Laing and Emily Blanche. The incredible amount of teamwork and collaboration from all students involved was extremely impressive – whether it was the commitment of turning up to rehearsals or going away and being motivated to learn songs, lines & choreography, students from both schools never disappointed. Pupils from both schools have showcased examples of leadership and integrity whilst working in partnership and championing creativity. After over 100 hours of rehearsal, the cast performed two sold-out shows at the Whitty Theatre to an amazing crowd of friends, family, teachers and alumni.
"We Will Rock You!" follows the story of Galileo (Ewan Millar) and Scaramouche (Katie Hay) in their quest to rid a dystopian world of the control of the evil Globalsoft corporation – led by Killer Queen (Tanvi Virmani) and Khashoggi (Alex Essery) – and its ban on all live music. The musical flies through a fantastic collection of Queen's greatest hits including Somebody to Love, I Want It All & We Are the Champions.
Sean Laing and Emily Blanche said:
"Both performances were an overwhelming success – the original West End run of the show (2003-2013) boasted that it received a standing ovation every night, and we continued that trend! We have raised over £3750 for No5 Counselling. All of the cast and crew are extremely grateful to the Reading Foundation and the Old Redingensians Association for funding the show, as well as all the staff who gave up their time to support the production by supervising rehearsals."
Mr A M Robson, Headmaster said:
"I am so proud of all the students from both Reading School and Kendrick School. This inspirational project was an outstanding example of student leadership and building character through life skills, notably creativity, communication, decision-making, teamwork and presentation. I would like to thank our partners, Reading Foundation who along with the Old Redingensians Association thoroughly supported the event.
The support for No.5 Counselling illustrates the importance of this charity to our pupils and the impact of the work they do to provide early intervention services to prevent the development of more serious problems caused by mental or physical ill health to children and young people and their families regardless of difference, background or identity who live, work or study in Reading and the surrounding areas, developing effective local partnerships which is a core value of Reading School."