Day Three of Book Festival Week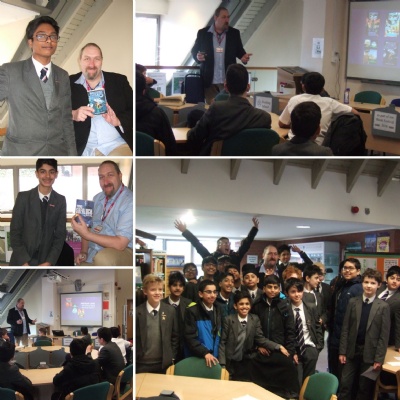 Andrew Lane, author and journalist who has written a series of YA novels, 'Young Sherlock Holmes' and 'Crusoe' and audio dramas based on the BBC science fiction television series Doctor Who
Young Sherlock Holmes author, Andrew Lane, delivered workshops to all year 8 on day 3 of Book Festival Week. Passionate about the enduring nature of Sherlock Holmes, Andrew charts his appearance from the original work by Sir Arthur Conan Doyle to more modern day interpretations in graphic novels, cartoons and computer games. What is it about Sherlock Holmes that makes him instantly recognisable around the world? Andrew finished the talk with a sneak preview of two front cover designs for his new book. Which one will we see in bookshops later this year? We will have to wait and see.
"The workshop was amazing and really helped my creative thinking. I learnt a lot from this experience and enjoyed it very much. He was brilliant" Kostas, 8L.
"Andrew Lane was amazing and I learnt a lot from the experience. I like his books and the chance to meet him was great" Karthik, 8L.
Thank you to Mrs L Kesteven and the English Department for arranging this event.