Students and Staff visit RBH A&E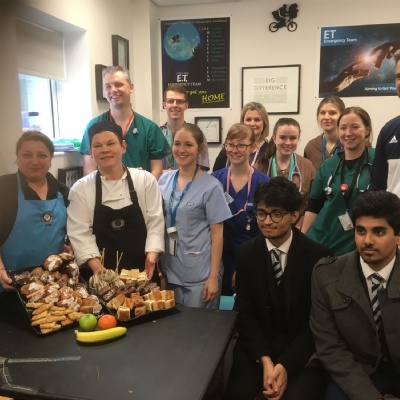 Students and staff decided to pay a visit to Royal Berkshire Hospital A&E department and take cakes made by our school caterers as an appreciation of all they do to help students, families and the community of Reading School.
Reading School has a close relationship with the Royal Berkshire Hospital geographically and also in terms of being a landing site for the Air Ambulance. In addition, the superb staff at the Hospital have diagnosed, supported and nursed numerous students, staff and loved ones.
At Reading School, we believe in the importance of integrity, leadership and community. We believe that these values are demonstrated in the great work of the Emergency Department at the RBH.
Therefore, students and staff wanted to show our appreciation for the brilliant work of the Emergency Department by sending them a token of our gratitude in the form of cakes and biscuits (and fruit) supported by our caterers, Harrisons. Thank you to the staff at the Royal Berkshire Hospital for their dedication, commitment, professionalism and compassion. Keep up the great work that makes you, like Reading School, an integral part of Reading.