The Young Bridge Challenge organised by English Bridge Education & Development 2018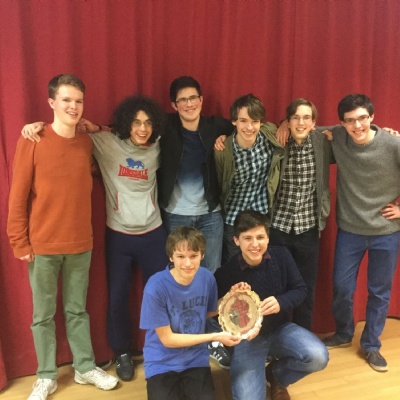 Reading School Bridge Victory in Loughborough
On Saturday 10th March, eight students from Reading School travelled to Loughborough to compete in the Schools' Cup organised by EBED, against over 20 teams from across the country. This was our first entry for many years and after 6 hours of gruelling competition the two teams of four did extremely well to finish 4th and 5th respectively, thus winning the prestigious Schools' Plate.
Special thanks to Mrs J Honickberg (Teacher of Mathematics) as Bridge Club leader and Loughborough Grammar School for hosting.
As quoted by the English Bridge Union:
"Bridge is something that children of all ages really enjoy once they try it. They love working things out, discovering how to make the most of the cards, and of course they love winning, It is also an educating team activity, helping kids to cope with defeat and victory, and to learn that mistakes are part of life. As an intellectual challenge, bridge is unsurpassed, posing continuous problems to be solved, involving elements of logical reasoning, probability analysis and decision-making. One of its greatest virtues is that it develops skills which benefit children in their future lives: young people can develop a sense of achievement and understand the value of working steadily towards a goal, the need to co-operate with a partner, to share information and to combine as a team to compete effectively."