World Individual Debating and Public Speaking Competition – Cape Town, South Africa - April 2018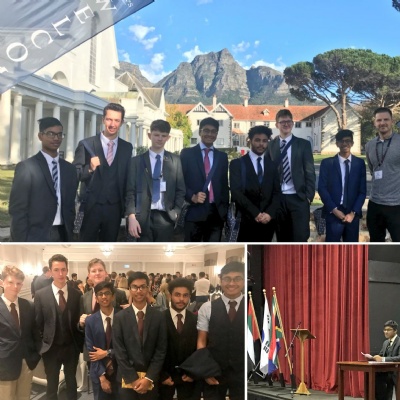 Reading School's Team UK competes in South Africa...
Led by their 'motivation coach', Mr S Allen (Head of School House), seven Year 11 and Year 12 students represented Reading School and the United Kingdom in the WIDPSC 2018 event. Hosted by Bishops Diocesan College situated in the shadow of Table Mountain, our intrepid speakers and debaters competed with aplomb. Sushrat and Ben reached the finals of debating, interpretive reading and impromptu speech. All of the team proved themselves to be excellent ambassadors for the school and their country. As a result of their excellent performance we have been invited to attend next year's event held in Toronto, Canada. In addition to the competition, we were able to visit Robben Island and see Nelson Mandela's cell. We are very proud of our students who represented Reading School on the world stage.