Two Old Redingensians embark on The Mongol Rally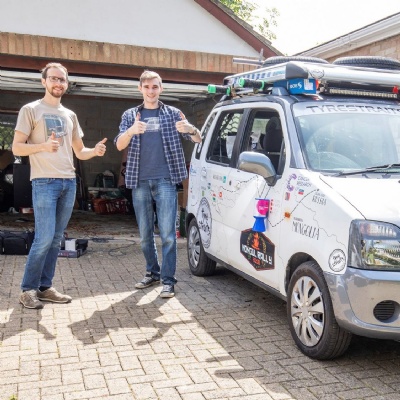 Travelling 10000+ miles from London to Ulaanbaatar in Mongolia
The Mongol Rally thunders 10,000 miles across mountains, desert and steppe of Europe and Asia each summer. There's no backup, no support and no set route.
Daniel Kemp (OR 2007- 2009) joined Reading School in the Sixth form, and though he spent only two years at Reading, he credits them as two of the most pivotal years of both his education, and adolescence. After leaving in 2009 he went on to graduate as a cadet airline pilot, and has now progressed to the role of Training Captain for one of Europe's largest airlines. This summer he looks forward – with only mild trepidation – to joining the Mongol Rally with his friend and fellow Old Redingensian, Rob.
Robert Hardie OR (2002 to 2009) enjoyed 7 years at Reading School following on from the strong background in science he received, he went on to study Aerospace Engineering at the University of Bath - collaborating with NASA on his Master's thesis. He is now an engineer in the UK space industry, working on NASA and ESA missions designing and testing the scientific instruments which are the vital foundations of those projects. Although he thoroughly enjoys his job, in light of their upcoming challenge, his team-mate, Dan, wishes he'd gained a little more experience with automotive engineering too.
Rob and Daniel will be travelling in Wilson, a 1.2 litre Vauxhall Agila (2005), from London to Ulaanbaatar in Mongolia. (Disclaimer: This year the official start point has been moved to Prague, and the final finishing line now rests a day north of Ulaanbaatar in Ulan Ude, Russia.)
Collecting together a gaggle of travel-loving petrol-heads and their (somehow MOT retaining) chariot, the Mongol Rally sees them travel almost halfway around the world via no particular route as they search for nothing but adventure and chaos.
Of course it will be the trip of a life-time. Absolutely. But this adventure is also about raising awareness and A LOT of money for Cancer Research UK and Mind, which are both organisations extremely close to their hearts. So please help them! http://www.tyrestraits.com/why.html
Reading School is delighted to support the commencement of Daniel and Robert's journey, departing from Reading School after Junior Prize Giving, tomorrow, Thursday 12 July from the School Terrace at 6pm where family and friends are welcome to wish them good luck.
Mr C Evans (Deputy Headmaster) said:
Taking on an enormous challenge like The Mongol Rally is truly inspirational and demonstrates values that Reading School aspires to encourage in all its students. The spirit of commitment, community and care for others as well as the resilience and perseverance that Daniel and Robert will need, are exactly the characteristics we aim to build.
We wish them the best of luck and look forward to seeing the updates.
You can support and follow the adventures of Tyre Straits and the Mongol Rally at http://www.tyrestraits.com/