Outstanding set of GCSE results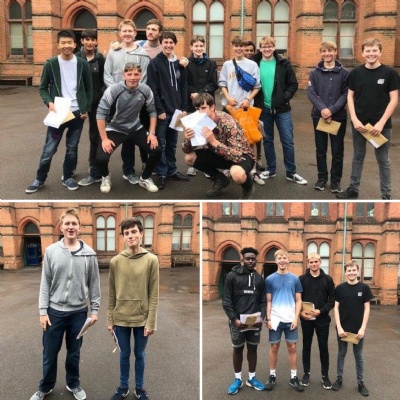 Reading School pupils are celebrating a superb set of GCSE examination results in 2018.
Reading School pupils are celebrating a superb set of GCSE examination results in 2018.
40% of entries were awarded the highly coveted grade 9 and 69% grades 9-8 or A*. Whilst 86.8% of entries were awarded grades 9-7 or grades A*-A and 100% of pupils gained 5 grades 9-4 or equivalent including English and Maths. In addition, 93.4% gained 5 grades 9-7, 50.4% 10 grades 9-7 or equivalent and 95% of candidates achieved the English Baccalaureate.
Regarding specific subjects, 77 pupils achieved grade 9 in Physics and 95% of biologists gained grades 9-7. Furthermore, 93% of History candidates gained grades 9-7 and 43 geographers were awarded the highest possible grade. In Mathematics 114 out of 121 candidates gained grades 9-8 and students of Latin were not to be outdone, recording 96.8% grades 9-8.
Headmaster, Ashley Robson, commented:
'The more intellectually demanding GCSE examinations this year have served to galvanise our teachers and pupils. Both have responded to the considerable challenges of curriculum and assessment reform in a most positive manner. I am proud of the achievements of our young men who have displayed strength of character and resilience. Crucially, the high quality of teaching has provided the pupils with the opportunity to flourish academically. It is through consistently high quality teaching that so much value is added. In addition, excellent pastoral support from Heads of House and Senior Leaders has ensured that emotional needs of our young men are also met. The results should provide a firm foundation for pupils going on to study A levels. Our young men should be rightfully proud of their outstanding academic achievements.'
Ben Coneybeare, Tom Haley, Nikhil Patel, Tianyin Hu and Shreyas Pandit achieved the highest possible grades in each of their GCSEs and particularly excellent results were noted amongst the School's boarding contingent with Kai Faulkner, Tomi Sanusi, Tony Shorrocks and Richard Li gaining twenty-eight grade 9s between them.
Assistant Headteacher and Boarding Housemaster, Chris Nicholas, stated:
'Undoubtedly Reading School pupils have demonstrated a great deal of character and resilience in successfully meeting the considerable challenges of the new, reformed 'Gold Standard' GCSEs. We celebrate their academic success which is well deserved and we wish them well in their future studies both here at Reading School and at other institutions.'
The key role of the Governing Board, led by Mr Robert Kenwrick, should be recognised along with the importance of support from all staff, teaching and Associate and also the parent body. Young men need both appropriate support and challenge if they are to achieve academic excellence and also become good men. The Reading School family, supported by the Reading Foundation, working together as a community has helped to build the firm foundations to fulfil our aim of achieving academic excellence and building good men as shown in the 2018-2025 Strategic Development Plan.
Robert Kenwrick, Chair of Governors stated:
'Students and staff at Reading School are to be congratulated on an excellent set of GCSE results. When considered alongside the superb A Level results published last week it is clear that as an organisation we are adding value. We have not rested on our laurels following gaining the accolade of 'South East State School of the Year' in 2017 and have ambitious strategic plans to continue to flourish, leading up to our 900th anniversary in 2025. As a meritocracy we are committed to providing opportunities for talented young men, from all backgrounds, to flourish.'
In addition, Chris Evans, Deputy Headmaster maintained:
'Academic Excellence is a necessary but not a sufficient outcome of education at Reading School. I would like to acknowledge not only the individual successes in terms of outcomes, for instance the percentage of 9-7 grades, but also the way in which pupils have responded to personal challenges and shown character, compassion, a sense of community and resilience.'
Warmest congratulations to the Reading School family. #readingschoolfamily #buildinggoodmen #gcseresultsday2018