Inspire Lecture - Urban monkeys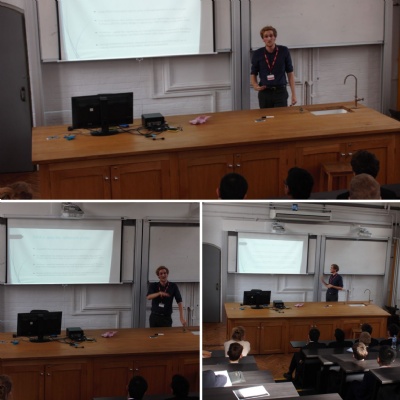 On Monday an Inspire Lecture for all GCSE and A-level Biology students with an interest in conservation, ecology or animal behaviour took place at Reading School.
Reading School commenced the new term, with an Inspire Lecture and was delighted to welcome back Daniel Gillett (OR 2008-2015) on Monday. A former student of Reading School who studied A Level Biology, Chemistry, English Literature, Mathematics and Further Mathematics who went on to pursue BSc Veterinary Medicine and Science at University of Surrey.
Daniel delivered an informative and engaging lecture to Year 10 to 13 pupils and teachers on "Urban monkeys; How does the human race's endless expansion affect our animal neighbours?"
Daniel said:
"It was a pleasure to visit again and talk to some of the boys; some insightful, challenging questions from those attending and hopefully some of them will go away with a better appreciation for the importance of ethology and ecology in saving the natural world. It was a whistle stop tour of conservation, research design, interpreting animal behaviour and applying study results to the real world which hopefully will have included some take-home messages for everyone in the room, irrespective of their eventual career path."
Teacher of Biology, Mrs J Pickering said:
"Daniel's fascinating, perfectly targeted and sometimes humorous talk really brought home the importance of conservation as a preventative measure rather than a cure, making us consider the topic from a completely different perspective. He introduced some thought provoking ideas and gave us insight into some of the political, social and cultural issues that impact conservation in Malaysia. It is also wonderful to see a past student so happy and enthusiastic in his chosen field: a reminder, if ever we needed one, of why we teach."
Headmaster Mr A M Robson said:
"It is always a pleasure to see Reading School alumni return to inspire Reading School pupils passionate about their particular area of expertise. Daniel was particularly inspirational as many of the Biology Department teachers were fascinated in this topic as were our pupils. Thank you, Daniel for returning and continuing to support Reading School."
Thank you to Miss J Pickering (Teacher of Biology) and Mrs J Chhokar (Society Manager) for arranging an invaluable lecture.
Further information on the Animal Neighbours Project can be found at Animal Neighbours a project aimed to address Human-Animal Conflict through research, awareness and conflict mitigation efforts.