Inspire Lecture on Tuesday 2 Oct 2018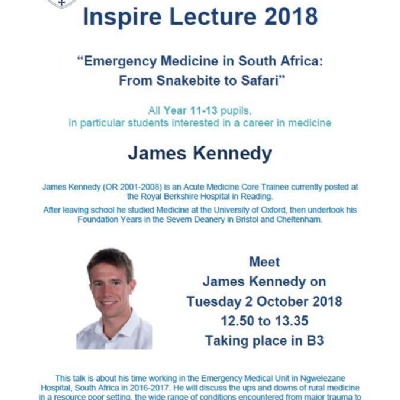 Emergency Medicine in South Africa: From Snakebite to Safari
All Year 10, 11, 12 and 13 pupils, in particular, all those interested in a career in medicine are invited to attend an Inspire Lecture with James Kennedy (OR 2001-2008), a former student of Reading School now an Acute Medicine Core Trainee currently posted at the Royal Berkshire Hospital in Reading. After leaving school he studied Medicine at the University of Oxford, then undertook his Foundation Years in the Severn Deanery in Bristol and Cheltenham.
Taking place in B3 from 12.50 to 13.35 on Tuesday 2 October.
For further information please contact Mrs J Pickering or Mrs J Chhokar or click here Inspire Lecture Oct 2018 to confirm attendance.