2018 Intermediate Biology Olympiad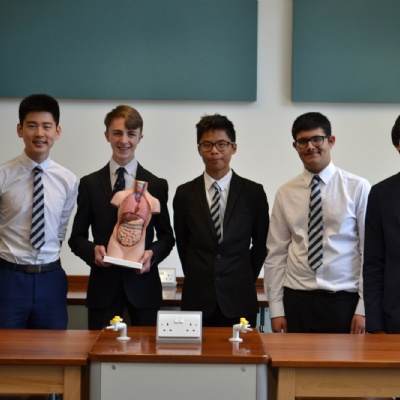 Reading School students competed in the Biology Intermediate Olympiad in July 2018
Our Year 12 (now Year 13) pupils participated in the Biology Intermediate Olympiad in July 2018.
It consists of an online 60 minute paper with questions on the topics covered in most general AS level biology courses but also rewards those students, whose knowledge of the subject has been increased by reading books and magazines, watching natural history programmes and taking notice of the news media for items of biological interest. 6580 students from 409 schools worldwide had participated this year. The following Reading School students achieved awards:
10 Gold Awards achieved by Luke, Nicholas, Natapon, Alex, Michael, Napat, Cian, Neil, Patrick and Sakshan.
13 Silver Awards achieved by Fergus, Joseph, Hamza, Satesh, Douglas, Fred, Vinay, Joseph, Bryn, Weiden, Atro, Joe, and Matthew.
7 Bronze Awards achieved by Devarsh, Jaeg, Chaitanya, Umar, Omar, Conrad and Shourya.
Natapon and Neil went on to attend the Royal Society of Biology Education Awards Ceremony at the IET London with Mrs MC Maunder (Teacher of Biology) at Savoy Place on Monday 9 July 2018 where outstanding school pupils and teachers are recognised for their success.
The ceremony saw school students from the UK and abroad receive their certificates and medals for their achievements in the Biology Challenge, the Intermediate Biology Olympiad and the British Biology Olympiad.
This year saw record numbers of students taking part in the school competitions. The Biology Challenge competition, suitable for pupils aged between 12 and 15, had 48,000 participants across more than 580 schools worldwide.
The Intermediate Biology Olympiad, suitable for pupils aged 16 to 17, had 6,500 participants this year from more than 400 schools worldwide.
The British Biology Olympiad, suitable for pupils aged 16 to 18, had 7,800 participants from more than 630 schools worldwide.
Outside of the UK, pupils from 29 other countries including China, Ghana and El Salvador took part in the competitions.
Mrs F Howson (Head of Biology) said:
"We are extremely proud of all our pupils that participated in this competition, as it stimulates and challenges students with a keen interest in Biology and expands their knowledge. Many congratulations to you all."
Mr A M Robson (Headmaster) said:
"An outstanding achievement from all our biologists who have been awarded Gold, Silver and Bronze medals after competing with a record 6500 pupils nationally, from over 400 schools. We are incredibly proud of Natapon and Neil who went on to collect their awards from the Royal Society Biology Education Awards Ceremony at the IET London. This is the perfect opportunity for our students with a curiosity in biology to extend their talents.

A special thank you to Mrs M C Maunder (Teacher of Biology), Mrs F Howson (Head of Biology) and the whole Biology team for their commitment and support in inspiring our pupils."
BioNet membership
All students who took part in this year's competition are eligible to a free year of BioNet membership, which provides them with electronic subscription to The Biologist magazine and e-newsletters featuring bioscience-related news and events. Students can claim their free membership by first registering for a mySociety account and then clicking Join now link on the left-hand-side of the webpage. They will need to choose the BioNet membership grade and enter the discount code IBO18 when prompted. Please get in touch with our membership team if you encounter any issues: membership@rsb.org.uk. Follow @RoyalSocBio for more details.
Biology remains one of the most popular subjects at A Level. This year, the RSPA are focusing on raising money for the Biology Department at the RSPA Quiz Night on 13 October 2018 held in the Refectory from 18.30. All support is welcome, as together we raise funds for items to help with practical study to assist pupils in embedding learning with areas of the curriculum.
It is also a great opportunity to have some family fun and make some new friends. Tickets are on sale at https://www.trybooking.co.uk/4110.
#RSBawards #Biology #STEM #ReadingSchoolFamily #BuildingGoodMen