Year 11 Inspire Lecture - Luke Rosier, with over 10 years experience as Producer for the Rugby Union, Sky - Sept 2018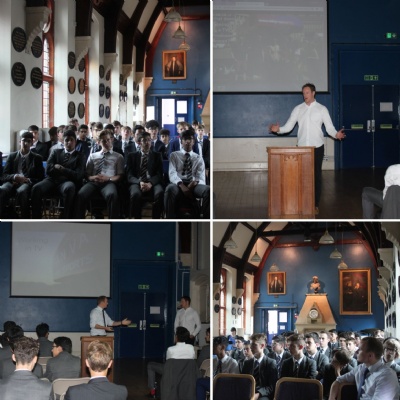 Live OB Producer for European Champions Cup, Guinness Pro14 & European Challenge Cup Final 2017
Reading School's PSHE Department welcomed TV Producer Luke Rosier to Big School last week, as part of a programme of inviting relatable young professionals from a broad range of careers to inform and inspire the Year 11s about the mixture of employment opportunities available to them.
Luke's story of setbacks and triumphs highlighted the reality of the world of work, and provided a refreshingly honest glimpse into the trials and tribulations of a young, ambitious graduate.
Luke, who has recently set up his own Henley-based TV Production company, LDR Media, emphasised the importance of perseverance in the face of rejection and how the quality relationships with colleagues, rather than any qualification alone, have enabled his progress at Sky Sports over the last 10 years. This message chimed perfectly with Reading School's aim to build young men of character. If you have an inspiring story to tell, or feel that your career pathway is too often overlooked, please get in touch with careers@reading-school.co.uk to explore the opportunities for inspiring Reading School pupils.
#BuildingGoodMen #CareerOpportunties #RSKeepInTouch #ReadingSchoolFamily