Reading School welcomes Auckland Grammar School October 2018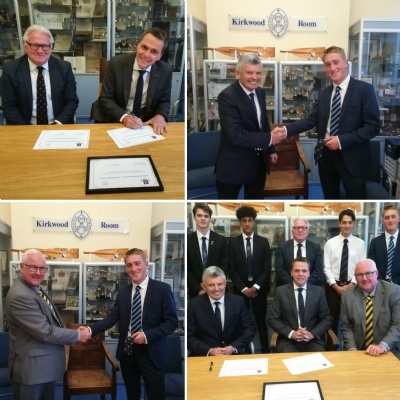 Reading School's Boarding Houses, East Wing and South House twinned with Tibbs House
Reading School welcomed Mr Tim O'Connor (Headmaster), Mr Jeff Blackburn (Board Chair) and Scott Milne (Chairman of the 150th Steering Committee) to Reading School to celebrate the twinning of our Boarding Houses, East Wing and South House with Tibbs House, Auckland Grammar School, New Zealand.
Boarding is at the heart of the School community and we believe that this twinning will strengthen our partnership. We have been invited to send a Football Team and a Badminton Team as part of Auckland Grammar School's celebrations for their 150th anniversary in 2019. We hope that we can extend the same invitation to our 900th anniversary in 2025!
In May 2019, Auckland Grammar School will celebrate their 150th birthday. This is a significant milestone in the School's history. Headmaster, Tim O'Connor, cordially invited Mr A M Robson, Headmaster to attend New Zealand House for their London event to meet with key supporters of Auckland Grammar School living in the UK.
Every year we host two gap students from Auckland Grammar School, and this year Bruno Batistich and Aiden Maric were honoured to be able to welcome their Headmaster from Auckland Grammar School to Reading School presenting him with a Reading School tie accompanied by two of Reading School's Boarding House Prefects, Ahmed Ahmed (East Wing Prefect) and Lucas Oyler (South House Prefect).
#RSboarding #buildinggoodmen #ReadingSchoolFamily #internationalpartnerships