Youth Health Champion 2018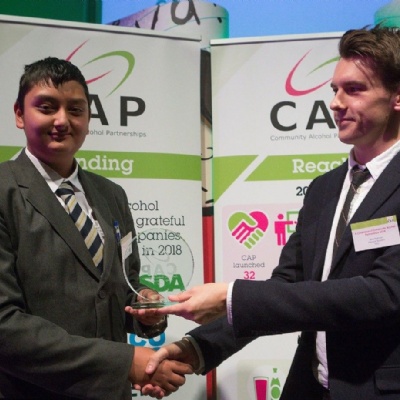 Winning the CAP Hero Award…
Congratulations to Beck, Year 11 pupil from Reading School on winning the CAP (Community Alcohol Partnerships) Hero Award for his incredible work with Youth Health Champions and sharing best practice on peer led education.
Beck has volunteered with CAP over the last 2-3 years as a part of the Youth Health Champions. Since the Youth Health Champions scheme began in Reading, he has focussed on many different areas of health affecting young people, but this award focussed on the alcohol signposting and awareness. The Youth Health Champion activities ranged from workshops for Year 7 on alcohol and its social, physical and mental health effects, to a stall outside the refectory during National Alcohol Awareness week, offering practical activities to highlight the dangers of drinking.
Beck said:
"I was extremely surprised to find out I had won the Young CAP Hero award, for this kind of work around the school, and it was exciting to visit the award ceremony in Cardiff. At the award ceremony, there were guest speakers talking from personal experience, and focussing on a neuroscientific points of view about adolescent drinking. At the end of the evening, they announced the winners of the prestigious CAP awards and I am so thankful to Reading School for providing this opportunity for me, and I hope the YHC scheme will continue for many more years to come."
The Level 2 Award for Young Health Champions (YHC) is a qualification for young people between the ages of 14-24 who want to both help their peers develop a healthier lifestyle and make their voice heard around health and wellbeing issues.
Mr A Robson added:
"We are extremely proud of Beck's achievement and it is exactly the types of initiatives we encourage our pupils to be involved with as it gives them the skills, confidence and opportunity to mentor their peers around health and wellbeing issues. This award was particularly timely with Reading School running many pupil led initiatives last week around World Mental Health Day. Well done Beck on your continued excellent work."
#younghealthchampions #community #getinvolved #buildinggoodmen #ReadingSchoolFamily #HandsUp4HealthyMinds