National Poetry Day 2018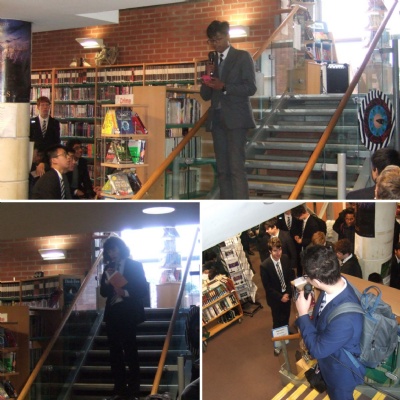 "Poetry on the Stairs" took place at Reading School earlier this month
Reading School celebrated National Poetry Day on 4th October 2018, in the LRC with "Poetry on the Stairs"
National Poetry Day is a UK-wide celebration of poetry taking place every October. In 2018 the theme was 'Change'. National Poetry Day generates an explosion of activity nationwide, across the UK – in schools, libraries, bookshops and hospitals, on buses, trains and boats – all celebrating poetry's power to bring people together.
Budding poets and brave performers from all year groups took to the stairs to recite poetry during lunch and break. Mr Baldock (Head of English) opened the proceedings, inspiring pupils of all ages to take part. From Dulce et Decorum Est by Wilfred Owen to poems about cell division, politics and the Dark Side, it was wonderful to see pupils of all ages stepping up to the mic and appreciating poetry in all its forms.
For those interested in poetry, come along to Poetry Club, run by Jamie (13AVS), which takes place Thursday lunch times (week A only) in room 1.
#NationalPoetryDay #BuildingGoodMen #ReadingSchoolFamily