The Annual Frank Terry Memorial Lecture October 2018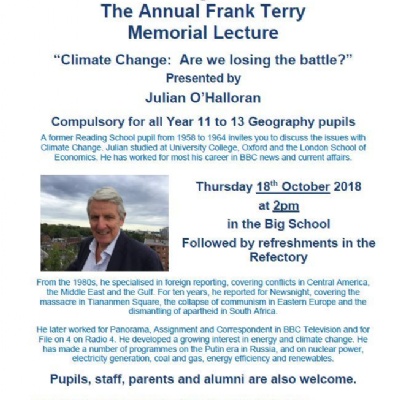 The Headmaster, Mr A M Robson and Francis Terry (OR 1956-1963) cordially invite you to join the students and staff of Reading School
The Frank Terry Memorial Lecture is taking place at 2pm on Thursday 18 October 2018 in Big School.
"Climate Change: Are we losing the battle?" will be presented by Julian O'Halloran (OR 1958-1964), a reporter who has worked with BBC current affairs and news programmes since the 1970s. Please click the link for further details The Annual Frank Terry Memorial Lecture - Julian O'Halloran - Climate Change: Are we losing the Battle? In order for pupils to benefit from this lecture, it is compulsory for all Y11 to 13 Geography pupils. All pupils, staff, parents and alumni are welcome to attend. RSVP click here Inspire Lecture. There will be refreshments in the Refectory from 3.30pm to 4pm.
For further information contact Mrs J Chhokar (Society Manager) or Miss P Hutchinson (Society Assistant) at events@reading-school.co.uk.