Visit from Lunhua Education School, China October 2018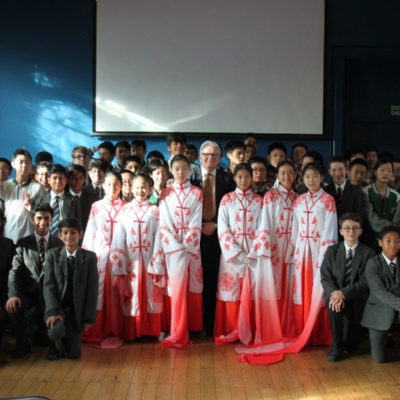 Reading School hosts pupils and teachers from the Suzhou Science & Technology Town Foreign Language School, China
Over the last two weeks, Reading School had the pleasure of hosting the Suzhou Science & Technology Town Foreign Language School ("SSFLS"), as part of our partnership with Lunhua Education in Suzhou, China. Thirty pupils and three teachers from the prestigious school in Suzhou, China, were impressed by the values of Reading School and the wider culture of life in the UK.
Our honoured guests were taught GCSE Mathematics and Chemistry as well as being able to visit all curriculum areas. Some pupils even stayed in Boarding for an added experience. In addition, the group from SSFLS enjoyed the historic sites of London and Oxford on sunny day trips to the towns.
The inaugural visit was superbly organised by joint co-ordinators Mr D Whitehall (Teacher of History) and Mrs E Turner (Examinations Officer). Crucially, we would like to thank all the families involved in the visit who embraced the cultural experience. During the week Mr D Whitehorn, Mrs E Turner, Miss L Ayres, Mrs H Stapleton and Mr S Pedlow devised a stimulating programme of events suitable for our 12-14 year old visitors from Suzhou. They experienced Mathematics mastery lessons 'Reading School style'. As well as CSI Reading in the Philip Mitchell Science Centre. Collaboration is key to raising engagement and motivation amongst our pupils and staff, clearly evidenced last week.
The philosophy of SSFLS is 'broad knowledge' for global citizens and 'enlightened wisdom for fulfilled lives.' This is in keeping with Reading School's core values of Excellence, Integrity, Leadership and Community. It is to be hoped that our guests were able to immerse themselves in British culture and extend their knowledge and will be inspired to learn the English language and appreciate the diverse cultures at Reading School.
Reading School is committed to strengthening its partnership through a Cooperation Agreement with Lunhua Education, led by Mr Cao Lunhua (General Principal) also renowned senior pioneer and practitioner of international curriculum in Schools in China. Moreover, Mr C. Evans (Deputy Headmaster) will be representing Reading School in November at the fundamental ceremony to mark the construction of the bilingual school, Reading School Suzhou. Upon its completion in 2020, this project will be the first of the Cooperative Agreement between Lunhua Education and the Reading School Overseas Partnership Limited reached in July 2018. Over the last two weeks, our pupils and families have been excellent ambassadors and we have no doubt that this partnership will continue to prosper.
Lastly and most importantly, we would like to express our sincere thanks to all the parents and pupils who volunteered to open their homes demonstrating commitment to host our Chinese counterparts for two weeks. We have had some excellent feedback from parents and pupils involved.
We hope that this is the first of many opportunities to strengthen our partnership with the Lunhua Education Group from Suzhou.
We now look forward to rolling out the Mandarin Excellence programme which demonstrates our commitment to learning about other cultures.
To see photos of the visit please click Reading School Gallery
#ReadingSchoolFamily #schoolspartnerships #buildinggoodmen #ReadingSchoolChina #internationalprograms #schoolexchange