The Annual Frank Terry Lecture 2018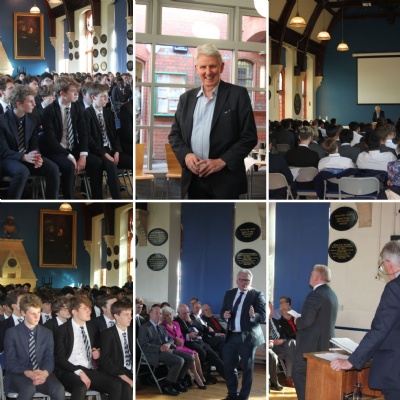 Julian O'Halloran (OR 1958-1964), has worked with BBC news and current affairs programmes in both radio and television over several decades.
Reading School was thrilled to welcome back Julian O'Halloran as part of the annual Frank Terry Memorial Lecture, in Big School, to inspire our Year 11 to 13 Geographers on 'Climate Change: Are we losing the battle?'
Julian has worked on Newsnight, Panorama, Assignment, Correspondent, File on 4, and The World Tonight. Covering conflicts in the Middle East, North Africa, the Gulf and Central America. Julian has travelled to more than 50 countries and developed a key interest in the environment, climate change, energy, and the world's dwindling resources.
Julian, who attended Reading School from 1958-1964 went on to study at University College Oxford and the London School of Economics.
Attendees commented on the extremely captivating talk and how this aligned well with current studies in both Geography and the Sciences.
It was clear that the pupils were engaged and stimulated, as many pupils took the opportunity to engage in a topical discussion with Julian during refreshments.
Jason Y13 commented:
'This was a fantastic talk and I made lots of notes, all the statistical information will assist me in my forthcoming university interviews.'
Parent and Y11 daughter said:
'We found this lecture hugely useful and are extremely grateful to have been invited to attend, together with my daughter from Wallingford School. My daughter particularly found this lecture useful in relation to GCSE Geography.'
Julian O'Halloran commented:
'I was extremely impressed by the boys at this event they were all so alert and interested In the subject matter. It was a lot to expect for them to hold their attention for more than an hour without any visual aids. They were very impressive and I wish them every success in the coming few years as they go on to University to study subjects related to Climate Change.'
We would like to thank the Old Redingensians Association and in particular, Francis Terry for enabling this lecture to take place in memory of his late father, Frank Terry.
Special thanks to Mrs J Chhokar (Society Manager), Miss P Hutchinson (Society Assistant) and Mr J Roberts (Estates) for making with the arrangements for this event.
If you would like to engage with pupils on a specific topic or have an inspiring career you would like to share, please get in touch with events@reading-school.co.uk to explore the opportunities for inspiring Reading School pupils.
Please click here to see photos: The Frank Terry Memorial Lecture Photos October 2018
#BuildingGoodMen #RSKeepInTouch #ReadingSchoolAlumni #ReadingSchoolFamily #climateChange #OldRedingensians #environment