Medicine Inspire Lecture October 2018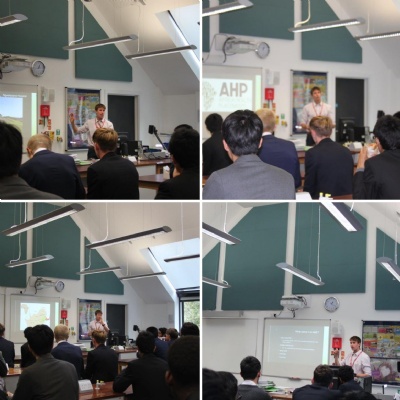 'Emergency medicine in South Africa: From Snakebite to Safari'
Earlier this month, Reading School was overjoyed to welcome back James Kennedy (OR 2001-2008), an Acute Medicine Core Trainee currently posted at the Royal Berkshire Hospital in Reading.
James moved us with his travels in South Africa but more importantly about his time working in the Emergency Medical Unit in Ngwelezane Hospital in 2016-2017. Touching upon the highs and lows of rural medicine, where resources are limited and reflecting on the many challenges faced from major trauma to tropical diseases.
Pupil applications for medical school is one of the fastest growing numbers every year from Reading School, therefore James had a captivated audience.
Y12 pupil commented:
'It is truly inspiring to see a Reading School Alumnus return to share with us his passion for his chosen career path. It was fascinating to hear about his work in South Africa and where a career in medicine can actually take you. I really hope I return to tell some tales too one day.'
Ms J Pickering (Teacher of Biology) said:
'We were really pleased to welcome back Dr James Kennedy, Class of 2008. It was almost standing room only for his lunchtime talk "Emergency Medicine in South Africa: from Snakebite to Safari", which captured the imagination of both staff and pupils from years 10 to 13. Pitched at exactly the right level, it brought home just how easy we have it in this country, despite the many challenges facing the NHS and its staff. The stark reality of medical staff shortages combined with a steady stream of patients suffering from minor ailments through to HIV infection, serious agricultural injuries, gunshot wounds and snake bites was sobering to say the least. Despite this, the audience could not fail to sense James's commitment and enthusiasm for his profession and our potential medical students left with a better understanding of just how varied a career in medicine can be.'
Special thanks to Ms J Pickering (Teacher of Biology) and Mrs J Chhokar (Society Manager) for arranging this event.
If you would like to engage with pupils on a specific topic or have an inspiring career you would like to share, please get in touch at events@reading-school.co.uk.
#BuildingGoodMen #RSKeepInTouch #ReadingSchoolAlumni #ReadingSchoolFamily #medicine #RBH #royalberkshospital #OldRedingensians