House Music Competition 2018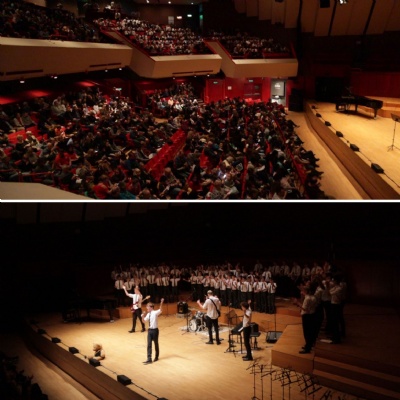 A full house and talented musical performances can only mean one thing...
After months of preparation, outstanding musical performances took place, on Sunday evening, live at The Hexagon, by Reading School pupils. Now in its 83rd year the House Music Competition is the single largest event in our school calendar. Remarkable performances showcased musical talent to a full house.
With the nights theme being the legendary Queen
House Music Competition DVDs are available. If you would like to order a copy of this year's House Music performances then please complete and return the order form by clicking here: House Music DVD order form 2018.
Congratulations to this year's winners....School House.
We are extremely proud of all the Houses - West, County, Laud and East for incredible performances.
A special thanks to our adjudicators on the night, Caroline Tyler, an award winning concert pianist, Alex Baranowski, a Tony nominated composer and arranger Darren Reeves whose work for film includes the twice BAFTA nominated McCullin and Darren Reeves a noted and experienced professional Keyboard player.
A huge thank you to Mr J Tunstill (Director of Music) and Mr J Newman (Teacher of Music) for their leadership and commitment to music and the support of the Heads of House.
Without the invaluable support of the Friends of Music and RSPA and the whole school community these events would not be possible.
#RSHouseMusicCompetition2018 #BuildingGoodMen #ReadingSchoolFamily #RSEnrichment #Boarding #Music