Pharmacology Inspire Lecture 2018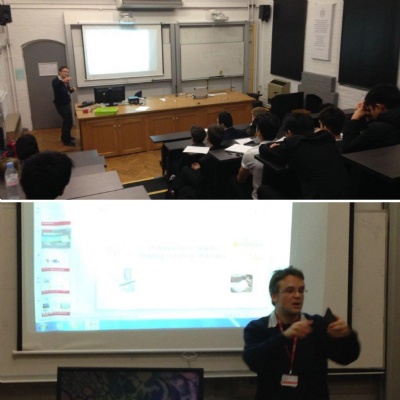 Reading School working in partnership with the University of Reading , hosted the first of its series in Pharmacology Inspire Lectures this week
On Monday 3 December, Reading School welcomed Dr Alexander Edwards to speak to our Year 9 to 13 pupils on Immunology – Vaccine pills and smartphone diagnostics to a packed Lecture Theatre.
Joel B (Year 12 FEH) commented:
"The talk held by Dr Alexander Edwards gave us insights into the industry of pharmaceutical chemistry and immunology. Often overshadowed by Medicine, the talk reinforced the need for new pharmacologists and the importance of the field, which in itself was displayed to be an area of rapid scientific progress. The talk clearly evidenced this, showing how through technological advancements the field has adapted for its cause. For example, running simultaneous tests in much smaller wells in a complete 10-plex test strip device to obtain faster results is a simple innovation but it has far reaching benefits in the field. However, Dr Edwards also speculated on how immunoassay chemistry can be carried out at a fraction of the original cost and effort. Near the end of the talk, a demo was shown where a £22 Raspberry Pi Camera Module was used to observe colour changes in dye indicating bacterial resistance to an antibiotic, which is ridiculously inexpensive for its function and value. In addition to this, 'nanopore' technology was exhibited, which is used within a USB thumb drive to sequence a single DNA molecule which is set to be distributed commercially. Ultimately, the field has two ends, one which is advancing forward with ground-breaking innovations, as is the case with the 'nanopore' technology, which are rather expensive to develop but also the other end where technology is becoming far more inexpensive to distribute, such as the demo in which bacterial resistance was observed visually with a cheap setup involving a Raspberry Pi and a camera module, which ultimately helps to share effective chemical analytic technology with the rest of the world where developing nations cannot afford other means of chemical immunoassay. Dr Edwards clearly put forward the field in its entirety, one that is not only developing new means of progression for pharmacology, but also sharing it for the preservation of humanity. An aim that is even more signified by the rise of Dengue fever in the tropical regions around the world, as well as with the present fears of rising bacterial resistance."
Reading School is very grateful for the continued partnership with the University of Reading, especially in being able to share their expertise and knowledge with our pupils. Being in close proximity is an added bonus.
Special thanks go to Mrs F Howson (Head of Biology) in arranging the series of Inspire Lectures on Pharmacology and the Events team.
#Biology #STEM #ReadingSchoolFamily @UniRdg_Outreach @UniofReading