Reading School's Sports Personality of the Year 2018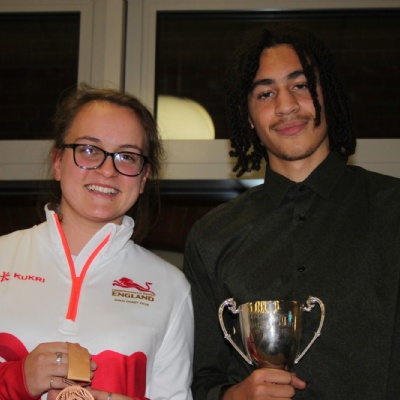 Top Table Tennis Player Celebrates Sporting Success at Reading School
Reading's own Commonwealth Games table tennis player, Maria Tsaptsinos, 21, told her story to a rapt audience of 250 parents, staff and students at Reading School's Sports Personality of the Year Awards on 11 December 2018. Maria's strong message to all budding sportsmen and sportswomen is that they must find the drive from within themselves if they are to compete at the highest levels, with a little help from parents and carers, too. Maria's journey in table tennis began at the Kingfisher Club in Woodley when she was at primary school in Caversham and via a top degree from the University of Nottingham, took her all the way to a Bronze medal at the 2018 Games in Queensland in April.
Maria awarded the sports prizes at the Erleigh Road boys' state school at their event on 11 December. The popular Reuben (10E) (pictured with his younger brother, with Maria and his mum and dad) took the Sports Personality of the Year Trophy, gaining the most votes for his successes in Rugby and Athletics. Reuben holds Top 8 in 200m in the country at National Schools Athletics Finals, 200m Silver & 300m Gold at South England Championships. Reuben acknowledged both his dad and also, Reading School sport's master, Mr Steve Allen for recognising his ability and encouraging him to compete.
The runners up were Advay (8S) for Ice-Skating (Silver Medallist at the British Solo Ice Dancing Championships) and Sam (12SP) for Taekwondo (Winner of the U18 British Nationals, Looking to compete internationally before the end of the year in Germany, Winner of the Aquilla Open, and Winner of the Welsh International Open).
The following pupils were also recognised for their sporting talents:
Mr Ashley Robson, Headmaster said:
"We are very proud of all our sportsmen, especially students like Reuben who put in that extra effort and gained the award tonight. We are 'Building Good Men' and taking part in sport is an important part of that development. Maria is a fantastic role model and is proof that it is possible to combine academic success with sporting success. We passionately believe in building character and academic excellence. Maria encapsulates this, having gained in 2018 a First Class degree from Nottingham University as well as a Bronze medal in the Commonwealth Games."
Special thanks to the Friends of Sports, led by Mrs D Smith, together with the RSPA for co-ordinating SPOTY 2018 with the PE Department. Also we are thankful for the support, hard work and commitment demonstrated by the whole PE Department, led by Mr A Beckey, Director of Sports, in encouraging the pupils to be #betterMovers #BetterPeople.
We would also like to thank Table Tennis England for their support.
Click here to visit Reading School's Sports Personality of the Year 2018 - Photo Gallery
@tabletenniseng @MariaTsaptsinos #athletics @BritishIceSkate @BritTaekwondo #badminton #rowing #hockey @nsr_uk @britishtennis