Reading School's Carol Service December 2018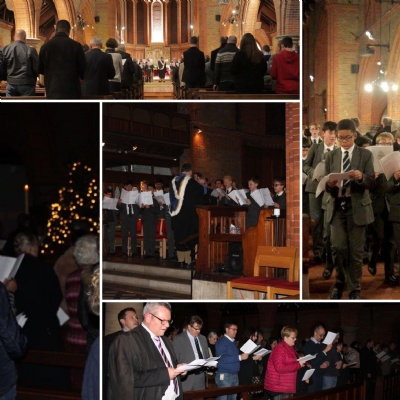 Service of Nine Lessons & Carols
Reading School's annual Christmas Carol Service was held at St Luke's Church on Monday 10 December, welcoming the Reading School community. Service of Nine Lessons and Carols began with the hymn, 'Once in Royal David's City' sung beautifully by Reading School's Chapel Choir. Commencing with an eloquent reading by Milan G (Year 7), followed by interspersed carols. Further readings by: Ben R (10W); Joe B (Year 13 and School Captain); Mr D. Whitehorn (Teacher of History); Mr G. Fairchild (Assistant Head, Head of Floreat and Teacher of Geography); Mr N. Holt (Old Redingensians); Mr R. Kenwrick (Chair of Governors) and Mr A. M. Robson (Headmaster).
A collection was taken during the service and the money donated to Rain Edge International - Sure 24 Orphanage, Nakuru, Kenya.
Guests were invited back to the School refectory for refreshments.
We generally acknowledge the kindness of the Redlands Parish Church for allowing us to use St Luke's Church.
A special thank you also to: Mr J. Tunstill (Director of Music); Mr G. Cornelissen (Chaplin); Mr A. Knowles (Organist) and the Events team.
#ReadingSchoolFamily #BuildingGoodMen #CarolService #Choir #ReadingSchoolAlumni #Christmas #OldRedingensian @Redlandsparish