Senior Prize Giving 2018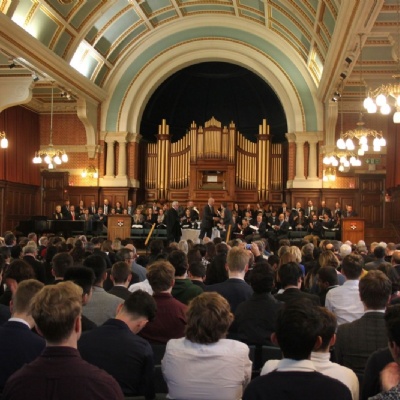 Reading School ended the Michaelmas term with a spectacular Senior Prize Giving, held at the Great Hall, University of Reading on 18 December 2018, welcoming back the Class of 2018, as well as Senior School prize winners.
This prestigious event is a celebration of excellence, progress and commitment of key successes of the school community where we can take pride in the individual and collective achievements of our students.
We were honoured that this year's guest speakers, Crispin Williams (OR 1993-1997) and Gerhard Grubb Waaentz (Skoleleder) were able to join us with inspirational speeches, underpinning Reading School's core values of Academic Excellence, Integrity, Leadership and Community.
Crispin, is a lobbyist. He is an expert in public affairs, government relations, advocacy, and communications. He studied political theory (MSc) at the London School of Economics with over a decade's worth of experience creating, directing and implementing successful strategies and operations to influence public policy and build and maintain strong relationships with governments, politicians and other decision makers.
Gerhard, has been the Principal of Frydenhøjskolen in Denmark since 2012. He is currently an English and PE teacher and a volunteer for the Danish Football Association for the last 15 years. With 20 years' teaching experience, his passion is on developing young people who value well-being, autonomy and a rounded education as well as academic excellence.
We were also joined by, Councillor Debs Edwards (The Mayor of Reading), Mr B. Kenwrick (Chair of Governors) and Mr J. Short (President of the Old Redingensians Association).
The afternoon commenced with an opening speech form Mr. A. M. Robson, (Headmaster) and Prizes were announced by Mr. C. Evans (Deputy Headmaster). Prizes awarded in the following categories, Year 12 and Year 13 Subject Prizes and Departmental Prizes for academic achievement and strong academic results together with sustained commitment to studies. Floreat Prizes for attitude, commitment and community and Floreat Prizes for integrity, Character and Leadership.
A number of prizes are endowed through the generosity of recent benefactors of the School to whom we are forever grateful. This year a number of prizes have been named after those members of the Reading School community that have made an invaluable contribution to the school. We were honoured to have these special guests join us on this occasion.
Without the commitment and support of the whole Reading School community these events would not be possible, but we would like to extend a special thank you to The Reading Foundation for sponsoring this event.
Photos can be viewed here: RS Senior Prize Giving 2018 Gallery
#PrizeGiving #RSKeepInTouch #ReadingSchoolAlumni #BuildingGoodMen #RSEnrichment #Excellence