STEM Inspire Lecture 2019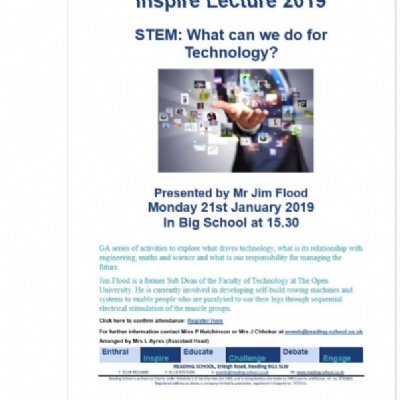 STEM: What can we do for Technology?
Reading School will be hosting a STEM Inspire Lecture on Monday 21 January 2019, in Big School, from 15.30 to open to all pupils, parents and alumni. Anyone attending must get involved with the practical part, in groups of 4.
GA series of activities to explore what drives technology, what is its relationship with engineering, maths and science and what is our responsibility for managing the future.
Jim Flood is a former Sub Dean of the Faculty of Technology at The Open University. He is currently involved in developing self-build rowing machines and systems to enable people who are paralysed to use their legs through sequential electrical stimulation of the muscle groups.
This will be a creative, engaging and inspiring lecture and we encourage all pupils to attend, especially those interested in technology.
To confirm attendance please register here
For further information contact Miss P Hutchinson or Mrs J Chhokar at events@reading-school.co.uk
Arranged by Mrs L Ayres (Assistant Head)