Year 12 NATO Crisis Simulation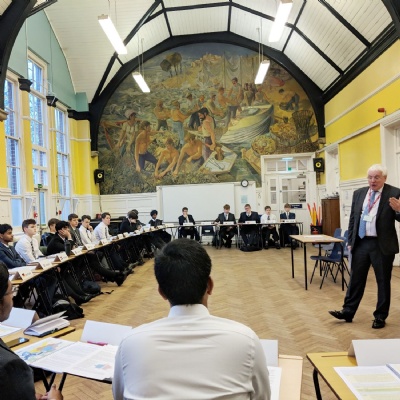 Jamie kindly stopped by at Reading School on his way back to Brussels to spend the day with us, directing negotiations as to how to deal with a simulated crisis involving the chemical weapons, state sponsored terrorism, refugees and climate change in the Caucasus region. The students spent the day coming to a mutual agreement on the NATO response to the crisis, preparing intelligence reports and answering press questions all while representing their country's own interests.
Year 12 pupils commented on how insightful this session was and were extremely grateful to Jamie for this experience:
"I enjoyed the introduction and breakdown of what crisis management means by Jamie, being able to have reasoned and intelligent discussions with many different views and deciding what the best outcome would be/what should the press know about."

"I learned the importance of comprise and giving options to resolve issues rather than intimidating rivals. Jamie guided the debate very well, and was an excellent speaker, I have the highest praise for him. He also talked about what to focus on when dealing with a crisis and whether you should get involved."

"I learned about the intricacies of the world of diplomacy and its real life applications and consequences"

"I gained an understanding of how NATO works from Jamie's personal experience which was invaluable, an intriguing insight as obviously, operations inside NATO are very secretive."
Special thanks to Greg Rowett (OR 2010-2012) for recommending this fantastic opportunity as well as Mr G Fairchild, Assistant Head and Mrs A Cash, Teacher of Economics for arranging this interactive session with the Institute of Statecraft.
#ReadingSchoolFamily #NATO #WeareNATO #Worldaffairs #RSEnrichment #Economics