Reading School's Careers Convention 2019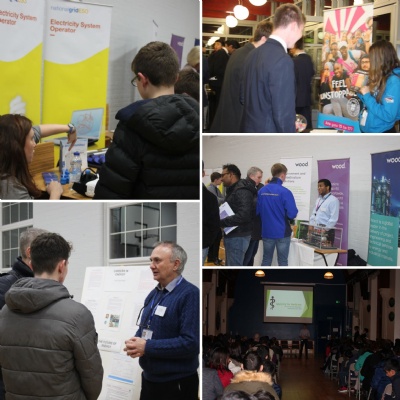 Reading School was delighted to host its biennial Careers Convention on Tuesday 15 January 2019
The Careers Convention was a resounding success, with over 500 Reading School students, siblings and parents in attendance, being offered the opportunity to talk to over 50 representatives about various careers and professions. Open to all year groups. This event was particularly important for those pupils making decisions about their GCSE, A-level and higher education options.
The evening featured many local employers from a wide range of industries (from Law to Pilots) coming along to meet students and discuss career pathways and the organisations they work for (such as GSK, Dyson, National Grid and Heathrow Airport), as well as exhibiting stands to promote various career pathways, training and volunteering opportunities.
It was superb to see over 15 Alumni return to Reading School, as delegates, sharing their experiences in their chosen field, overcoming challenges being flexible and embracing change during their careers. They were truly inspiring role models for our pupils. They shared their journeys since leaving Reading School and provided reassurance to those not knowing which career to pursue yet, whilst encouraging them to explore every opportunity available to them.
In addition, we are especially grateful to our keynote speakers enabling all attendees to join a series of engaging talks. James Kennedy (OR 2001-2008) shared his experiences as a Doctor in the NHS and his career in medicine; David Ellis (OR 2001-2008) covered his exciting career in journalism with the Evening Standard and how to pursue a career in writing; Francis Terry (OR 1950-1963) explored the Whitehall village: a career in Central Government; and Katie Fiddaman from Pearson Apprenticeships spoke about Busting Myths and Celebrating Pathways in 2019. All talks were extremely well attended with some really good questions for our speakers.
Reading School is indebted to all the volunteers who attended and are very fortunate to have alumni and parents work in close partnership with Reading School to deliver an array of career opportunities available to pupils.
We have received fantastic feedback from delegates, parents and pupils that attended. We would like to thank everyone for making it a huge success.
Please click here to see the Careers Convention Photo Gallery
Reading School is developing networking and mentoring opportunities with our wonderful Reading School Alumni community to benefit both, former and current pupils alike and encourages all Alumni to join Reading School LinkedIN.
A special thank you to Mrs. L Ayres (Assistant Head) for coordinating the whole event with support from Mrs. C Desai (Careers Advisor), the Events & Society Office, the RSPA and the ORA.
#ReadingSchoolFamily #RSCareerConvention #RSKeepinTouch #ReadingSchoolCareers #Careeropportunties #Inspirational