The Harry Potter Book Night at Reading School 2019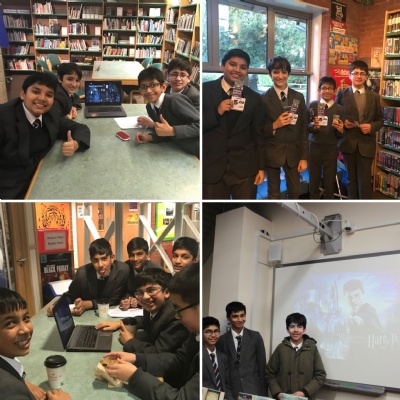 This year's theme is Hogwarts School of Witchcraft and Wizardry and Reading School pupils could not wait to celebrate the Harry Potter books and all things Hogwarts!
The Harry Potter Book Night was hugely popular, after school in the LRC yesterday, with over 89 pupils testing their Potter knowledge! This was the most well attended quiz to date and is a great illustration of the enduring appeal of the Harry Potter books. The quiz was created by previous winners Tanubhav, Dinindu and Akshat from 10S. They decided to create the most challenging Harry Potter quiz ever and it looks like they achieved their aim with many teams getting scores in single figures. The winning team: Samuel, Saikrishnan, Azaan and Sidh from 8S managed a huge score of 51 points and they were overjoyed to win a selection of Harry Potter sweets and book vouchers for the Scholastic Book Fair, which visits the school after half-term. Harry Potter Book Night is all about passing on the magic of J.K. Rowling's amazing books to the next generation of readers, as well as celebrating with devoted fans. Now in its fifth year, there are hundreds of events planned all around the world, across bookshops, libraries, schools and people's homes.
Special thank you to Mrs L Kesteven in hosting this event in the LRC.
#ReadingSchoolFamily #HarryPotterBookNight2019 #RSEnrichment #JKRowling #HarryPotter @RS_LRC