Reading School Economists compete in the Student Investor Challenge 2019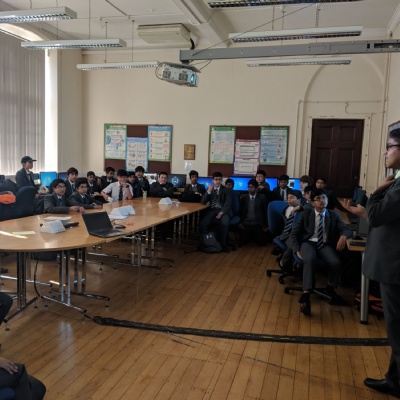 The Student Investor Challenge is the UK's premier investment competition with over 400,000 students from 2,500 school teams investing virtual money on the London Stock Exchange.
From October to January, a hundred Reading School Economists have been participating in the Student Investor Challenge which has seen them use their knowledge of the stock market to invest in a simulation of the London Stock Exchange. We are excited to have 6 teams qualify for the semi-finals of the competition. Special thanks must also go to our Year 11 coaches (Arkin, Dev, Rohan, Adithya and Suyash) who have worked with the Year 9 and 10 teams.
We have two Year 9 teams through, which is really impressive because they have been competing in the same competition as Year 12 and 13 students. Stocks "R" Us made up of Year 12 students came in highest as the 41st best team in the UK (out of a total of 5622). In the semi-final they will now be asked to predict the stock value of a particular stock at the end of each week. The earlier they enter their predictions, the more points they receive. More accurate predictions also receive more points.
Teams are made up of:
Stocks "r" Us - (Muyiwa A, Basil P, Tony S and Richard A)
Stock Stars 2018 – (Jinseo A, Morgan K, Sida L and Tarun B-C)
HAKK2018 – (Hemkousik N, Aditya S, Karthik D and Kostas D)
Supreme Investors – (Aryan D, Benedict B, Liam P and Max H)
The Clowns – (Aryan N, Benjamin C and Kieran R)
The Hala – (Arun D, Ayush T, Hao Y and Luke R)
A special thank you to Mrs. A Cash (Teacher of Economics) and the Economics Department for supporting this challenge and pupils.
#ReadingSchoolFamily #RSEnrichment #Economics #StudentInvestor