2019 Book Festival Writing Competition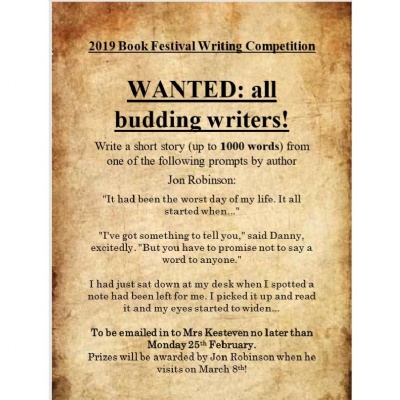 Put your writing skills to the test this half-term and enter this year's Book Festival Writing Competition.
All you have to do is write a short story (up to 1000 words) from one of Jon Robinson's prompts below:
"It had been the worst day of my life. It all started when…"
"I've got something to tell you," said Danny excitedly. But you have to promise not to say a word."
I had just sat down at my desk when I spotted a note had been left for me. I picked it up and read it and my eyes started to widen…"
Please email all entries to Mrs Kesteven at lkesteven@reading-school.co.uk.
The closing date is Monday 25th February 2019.
The winning piece will be awarded a prize by Jon Robinson on 8th March 2019.
Good luck!
#BookWeek2019 #Storytelling #WriterWednesday #WritingPrompt #ReadingSchoolBookFair #RSEnrichment #IgniteWriting