Future Stories Social Mobility Programme for Year 5 Pupils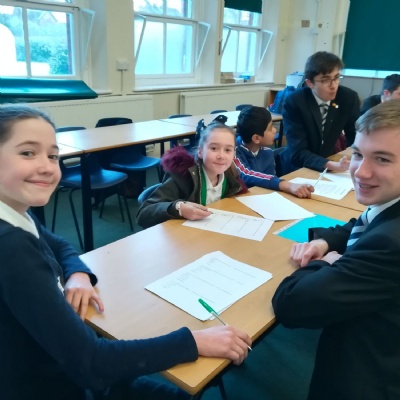 Future Stories familiarisation sessions starting on Tuesday 26th February 2019
At Reading School we run a programme called Future Stories, our social mobility project working in partnership with local primary schools. The aim of the Future Stories project is to ensure that Reading School is full of high ability students from a range of social and economic backgrounds, who are eager to reach their future story goals.
We are running six sessions at Reading School starting on Tuesday 26 February from 15.45 – 17.00 for gifted Year 5 boys and girls.
Children must be registered for Pupil Premium or Service Premium at any point in the last six years and live within the designated area, or be a Looked After Child or previously Looked After Child. The sessions are led by our Year 12 students and cover Maths, English, Verbal and Non Verbal Reasoning.
We have a few places left so if you know of any children who you feel would benefit from these sessions please email: fstories@reading-school.co.uk
To learn more about the programme or further details please click here Future Stories at Reading School or contact fstories@reading-school.co.uk.
#RSFutureStories #ReadingSchool #BuildingGoodMen #education #socialmobility