Join us for a friendly OR 1125 Football Match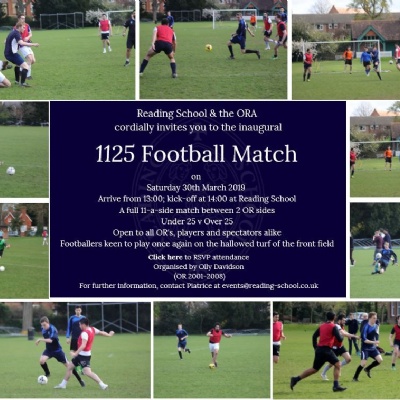 Reading School & the ORA cordially invite you to the ORs '1125' 11-Aside Football Match
We are delighted to welcome back Reading School Alumni and are currently looking for teams! Please come and join us for a full 11-aside match 'Under 25's v Over 25's' on Saturday 30th March 2019 at Reading School, front field.
The event will run from 13:00 with kick-off at 14:00 and is open to all OR's, players and spectators alike.
If you led a football team during your time at Reading School, why not get together for a friendly match. Unable to form a full team then recruit across year groups! All abilities welcome.
After some competitive football, join us for food and drinks afterwards at The Lyndhurst Pub , 88-90 Queen's Rd, Reading, South East England, RG1 4DG.
Footballers keen to play or join for just drinks, please Click here to RSVP attendance.
We hope to see you there!
Organised by Olly Davidson (ORA) and the Society Office at Reading School.
Sponsored by the ORA
#ReadingSchoolAlumni #Football #ORSports #OldRedingensians #ReadingSchoolFamily #TheReadingWay #Reunions