Support Reading School Football Teams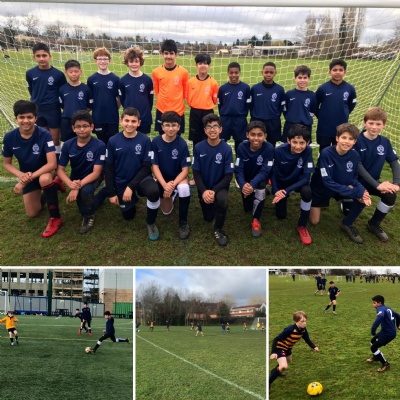 We had over 100 boys representing Reading School showing commitment and passion in supporting our Reading School Football teams last weekend
Last weekend, there was 8 fantastic block fixtures against Reading Blue Coat played, both at Reading Blue Coat as well as 'home' at Morgan Road.
Y11 and Y13 pupils displayed leadership in officiating and coaching of joint fixtures demonstrating guidance and management.
During this week, there have been matches against Furze Platt U12s with a very strong squad that keeps on getting better, as well as further enjoyable afternoon fixtures on Wednesday with our Senior Teams, 1st and 2nd XI, playing against Blue Coat.
We thank our pupils who have represented Reading School and importantly all the parent supporters on the side lines.
This weekend there are block fixtures against Claire's Court School, we encourage all parents to come along and support the School and pupils, especially at the home games as this support encourages our boys.
Saturday 9th March
Block Football Fixtures vs. Claire's Court School
All away fixtures will be taking place at Phoenix Rugby Football Club, The Sports Ground, Institute Rd, Taplow, Maidenhead SL6 0NS
U12 A @ Morgan Road 9.30am
U12 B @ School Field 9.30am
U12 C @ School Field 9.30am
U13 A @ Phoenix RFC 9.30am
U13 B @ Phoenix RFC 9.30am
U14 A @ Phoenix RFC 10.30am
U14 B @ Phoenix RFC 10.30am
U15 A @ Morgan Road 9.30am
U15 B @ Morgan Road 9.30am
All the best for the rest of the season boys!
Special thanks to our PE Department and School staff in coordinating fixtures and supporting School Sport as well as Friends of Sports.
A huge thank you to family law firm and local company 'LGFL Ltd' that have kindly sponsored our junior football kit. As well as our Senior kit which has been provided in partnership with Alzheimer's Society.
If your company or place of work would be interested in sponsoring our School Sports activities or teams, please get in contact with Mr A Robson (Headmaster) or Mrs J Chhokar (Society Manager) at Development@reading-school.co.uk
#RSEnrichment #BuildingGoodMen #ReadingSchoolFamily #TheReadingWay #Football #sponsorship