Igniting Writing at Reading School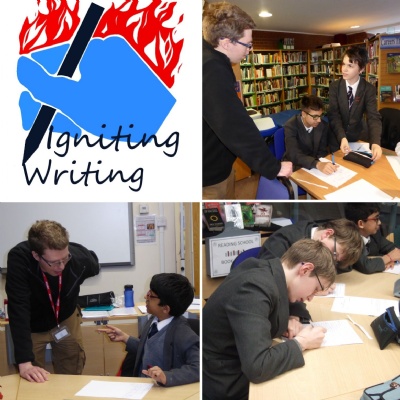 Armed with a magical item and a setting determined by the roll of a dice, pupils were transformed into magician apprentices on a quest to retrieve a Griffin feather. From dragon infested caves to snow sirens and haunted bell towers, our pupil explorers had to creatively problem solve in order to successfully complete the quest and develop their stories.
Alex Baker said:
"Creative writing can often be seen as quite a solitary activity, without much of an opportunity to share ideas with others, so the reason I run sessions in local schools is to open writing up and have pupils develop their storytelling as part of a group. Reading School have been really supportive of Igniting Writing over the years and the pupils at today's fantasy-themed session did a great job at utilising a fantasy-themed 'role-play' required to write out a magical quest."
Pupil testimonials included:
Aujaswi (7L) said:
"It was really fun! I liked the randomised situations. I also liked that it was mostly independent, making up whatever solution you wanted. This was a good time to practise my writing as I do not get time at home." 10/10
Adam (8S) said:
"I really enjoyed the workshop today and found it really interesting to look at fantasy genre tropes and what effects they can have on the story. I also thought it was innovative the way we received prompts and were helped to develop on those prompts. I found Alex a very good teacher and enjoyed his sense of humour. Thank You!" 9/10
Aarav (7L) says:
"I thought it was a fun session and I liked it a lot. I learnt how to actually start a fantasy story. Sadly, though, it was quite a short session." 9/10
Nathan (7E)
"I really liked Alex Baker's session because it was very practical and you chose your 'path' as such (when you rolled a dice). Also, it was interesting because I do not usually write about fantasy so it was a creative opportunity. I definitely learnt about creativity and how it does not have to be 'logical'. It inspired me to try some different types of fantasy (e.g. from a villains point of view, before our time, futuristic fantasy etc.)" 8/10
Alex Baker runs a group called Igniting Writing; a creative writing club for Year Six pupils and above, based at Wokingham Library, with the aim of bringing together young writers to write stories in a relaxed and friendly group environment. Igniting Writing gives young writers the chance to share ideas, develop their writing skills with others and have fun with their creativity. The group meets at Wokingham Library on Saturday mornings, from 10:30am to 12:00pm. They cover a different writing topic every week, ranging from creating settings or characters to exploring the worlds of sci-fi, fantasy and beyond, so there's something for everyone. Membership is completely free.
To book a place you can either show up on the day or confirm it in advance, by giving Wokingham Library a quick call to express your interest.
Special thank you to Mrs Kesteven, Mrs Jackson and the English Department in arranging this workshop.
#BookWeek2019 #IgnitingWriting #RSBookFestival2019 #RSEnrichment #AlexBaker #WBCLibraries #ReadingSchoolBookFair #DropEverythingandRead #WorldBookDay