Award winning Author, Sarah Govett delivers inspiring talk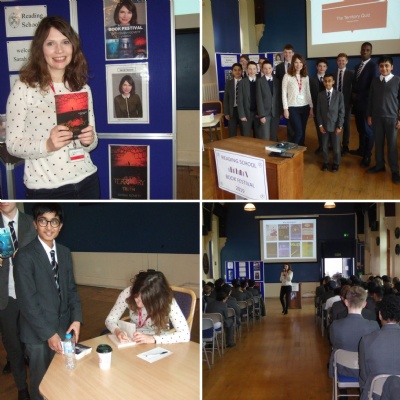 Dystopian fiction award-winning author Sarah Govett delivered a thought provoking talk to all Year 10 pupils on Tuesday 5 March as she revealed what inspired her to write her novels
The Territory Trilogy is set in a dystopian future of flooded lands and reduced resources where exams are literally a matter of life and death. Climate change and exam stress were two really important themes Sarah wanted to explore in her novels and she went on to explain the choices you have to make as an author in order to develop the story, flow and structure of your work. She gave recommendations of other dystopian novels which will be really helpful to Year 10 for their GCSE English. Sarah also gave an exclusive informal lunch time talk with members of the LRC Book Club.
Matthew (10C) said:
"A very engaging talk, it gave a realistic representation of what it is to be an author and the process involved in writing dystopian fiction. It inspired me to read more dystopia novels, and gave me some suggestions of which books to read."
Yoghan (7S) stated:
"I really enjoyed it as it was exclusive and it was informal so I could interact more casually. I would only ask for more of these with more authors! I hope I get an opportunity again."
Our thanks go to the Old Redingensians Association for funding the Book Festival this year and Mrs L Kesteven for arranging this excellent opportunity.
#BookWeek2019 #ReadingSchoolBookFair #Reading #RSEnrichment #SarahGovett #TerritoryTrilogy #RSBookFestival2019 #RSEnrichment #WorldBookDay #OldRedingensians