World Book Day talk by Industry Expert, Holly Webb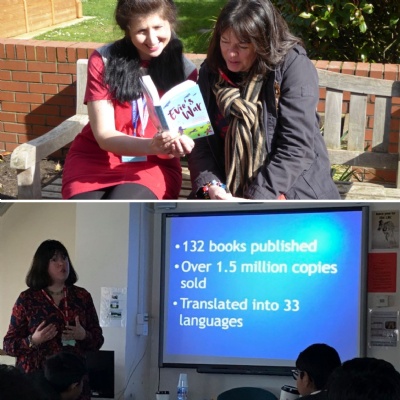 Author and Reading School parent, Holly Webb delivered a special lunch time talk open to all years in the LRC on 7 March 2019 to celebrate World Book Day.
It was amazing to hear how Holly Webb went from an avid reader as a child to an editor for Scholastic and is now the author of 132 novels! The talk was followed by lots of questions which took us right up to the end of lunch, with many more questions left for another time. We would like to thank Holly for visiting us today and sharing with us her incredible insight into the publishing industry. What an inspiring way to celebrate World Book Day.
Adam M (8S)
"I thought that Holly's talk was very informative and revealing on a career that is perceived to be secluded from the outside world. The way she talked about how she didn't want to be a writer when she started out made me feel like the industry was more open than I first believed.

Holly's sense of humour created a light atmosphere which made it feel easy to talk to her and then learn in turn.

Thank You Very Much, Mrs Kesteven, for organising this fantastic opportunity and all of the others throughout the book week."
Year 9 pupil:
"I found this talk incredibly motivating especially as Holly's writing is directed at a variety of ages which must be very difficult to do. Thank you Holly for visiting our school".
#BookWeek2019 #ReadingSchoolBookFair #Reading #RSEnrichment #RSBookFestival2019 #WorldBookDay2019 #OldRedingensians @HollyKateWebb