Nowhere, Anywhere and Somewhere - Book Week Festival 2019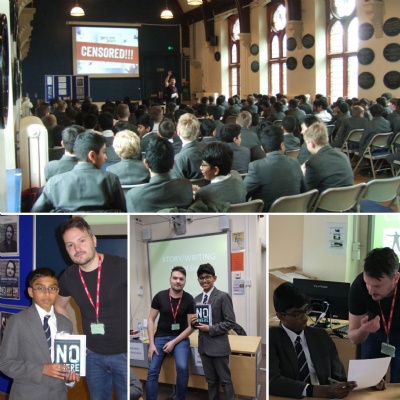 Winner of the Calderdale Children's Fiction Award 2014, author, Jon Robinson visits Reading School
Reading School's Book Festival 2019, spectacularly finished off with a Workshop and Talk by Jon Robinson, winner of the Calderdale Children's Fiction Award 2014. Jon wanted to be an author from a very young age – he was encouraged by an English teacher after writing a very gruesome story as a child. Ten years later, at twenty eight, he was offered a publishing deal by Puffin books for a YA novel, Nowhere and the two following books in the series, Anywhere and Somewhere.
Jon delivered lively workshops to Year 8 exploring what makes a good story and encouraging pupils to create their own story situations and characters. Using the metaphor of a character, stuck up a tree, being stoned and trying to find their way back down Jon explained the secret of storytelling. Pupils were then challenged to think of bad situations, underdog characters, conflict and villains.
William (8L)
"I enjoyed it and learnt a lot about how to write a story. I think it was useful and I'm going to read his book now. I enjoyed all of it thoroughly."
Jon also delivered enjoyable talks to all year 8 and 9 pupils charting his early life and his journey to become a published author.
Jacob (9L)
"I absolutely loved it. I just want to know more about his books now as I had never heard of them before."
Saikrishnan (8S)
"I thoroughly enjoyed Jon Robinson's visit as he was quite entertaining and I found him quite funny. He drew me in to his work and I loved the story about 'Deck the Halls' although it was a little gruesome. I also learnt what subliminal images were and I learnt quite a lot about the books and Jon Robinson himself. This was an amazing visit."
Writing Competition
Budding authors were challenged to write short stories continuing from prompts written by author Jon Robinson before his visit during Book Festival Week. Congratulations to our winners of the competition, Yoghan (7S), Anay (8C) and Joshua (10W). Jon enjoyed reading the winning stories and presented the winners with a signed copy of his book, Nowhere, a certificate and an Amazon gift card.
Reading School would like to thank Jon Robinson.
We would also like to thank, Mrs A Jackson and Mrs L Kesteven and the English Department for all their hard work in arranging the talks during book week. As well as the Old Redingensians Association for funding to enable us to provide the pupils with such a memorable and inspiring opportunity.
#BookWeek2019 #ReadingSchoolBookFair #Reading #RSEnrichment #RSBookFestival2019 #WorldBookDay2019 #OldRedingensians