Come back to School - 21 Year Reunion Class of 1998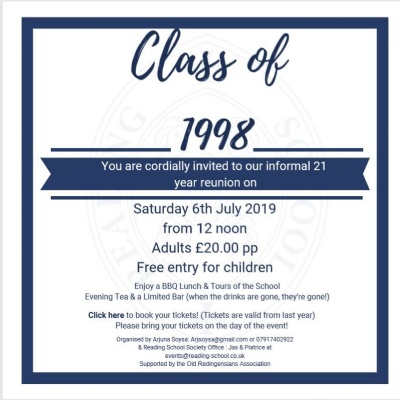 Calling all 1998 leavers...Join us in celebrating the 21 year anniversary of the 1998 Leavers at Reading School on Saturday 6th July 2019
We invite all 1998 Leavers to reunite and reminisce with one another at Reading School on Saturday 6th July 2019 from 12:00 noon.
Don't miss the chance to catch up with old friends while enjoying a BBQ Lunch available from 12:30pm.
Tickets £20 for adults and children free - family and guests are very welcome.
Please click here to buy a ticket and RSVP attendance.
If you know of any 1998 leavers, please help spread the word by sharing this page to ensure we can get as many of the 1998 class together!
Organised by Arjuna Soysa (OR 1998) and the Society Office at Reading School.
For further information please contact Piatrice Hutchinson or Jas Chhokar at events@reading-school.co.uk. Also supported by the Old Redingensians Association.
Please note that photographs and footage may be taken and used for social media and in our school magazine and communications. If you (or your guests) do not wish to be photographed, please contact us at development@reading-school.co.uk.
We look forward to seeing you there!
#ReadingSchoolAlumni #OldRedingensians #RSKeepInTouch #ReadingSchoolFamily #TheReadingWay #Reunions #BuildingGoodMen