Breaking news...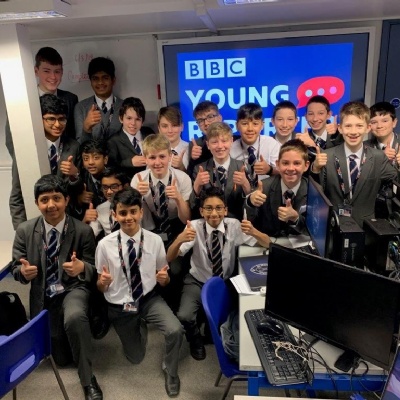 from Reading School's BBC Young Reporters 2019
Hal R-D (Year 8) said:
"This year, I made the decision to be like a pro journalist and signed up to take part in the BBC Young Reporter Day on 6th March. The day is arranged every year to give people like me the opportunity to write a local news story. This year over 500 schools around the UK took part. I feel that the project is really good and a great way to get young people thinking about local issues and the role of journalism.

The first task for me was to decide on a subject to write about. I chose my local tennis club and pacifically moving location after 100 years at the same venue. I felt it would be of local interest and also something that was very close to my heart.

Together with a number of my peers in year 8, I spent a month attending regular lunchtime sessions with Mr Baldock and Miss Geraghty-Green.

We watched lots of videos to give us an insight into the world of reporting. We all then went about doing the actual job myself. I interviewed people and emailed questions. I used detective skills and gained information from published sources such as planning application objections. It was fascinating to understand the passionate views held on all sides. I then brought everything together in a report that I hoped would be of interest to the local community.

Then on the day we spent ages editing and also working to a deadline as in the real world. With the help of the teachers, I and other achieved the goal of getting our stories published. There were some published photos I was unable to use, and as a last resort, I ended up taking my own! Unfortunately, some missed the deadline and didn't publish their stories.

The whole process provided an amazing insight into the world of reporting and I thoroughly enjoyed it. In particular, I felt a great sense of accomplishment in writing my final report that was shown on the school SharePoint site."
Tom and Ben S-R commented:
"BBC Young Reporter was absolutely fantastic. We loved every single stage of it. The first, finding a story, was one of the hardest parts. It was really fun looking for a story. Ours was about the prison. The next part was getting sources. It was so cool finding sources, sending off the email to them and actually getting a reply. We got a hit rate of 66% which is really good. Writing it for the first time was easier than we thought. The final part was editing it on the day to make it awesome so it could go up on the internet. Another challenge that we faced was getting a photo as we could only get it from certain places on the internet.

Once we finished my planned article, we started to work on the article that was about on the day news. It was about International Women's Day. The best part of BBC Young reporter and the most fun thing that we did all day was going around the school doing a Vocpop. It was very interesting finding out who Reading School thought the most inspirational women ever was. Rosa Parks won with 15 votes followed by Margret Thatcher who had 13 votes. It was an amazing day and we learnt so much about what it is like to be a journalist, and how to work with deadlines. But, we wouldn't have been able to do anything if it wasn't for all the effort Mr Baldock and Mrs Geraghty-Green put into the project."
A special thank to Mr R Baldock (Head of English) and the English Department on leading on giving these young reporters a space to report on some great stories.
Well done to all the pupils involved.
All reports are available at:
https://www.reading-school.co.uk/page/?title=BBC+Young+Reporter&pid=47
#ReadingSchoolFamily #BuildingGoodMen #BBCYoungReporters #RSEnrichment #Journalism #BBCAcademy #English #RSEnrichment