Open Evening - Thursday 25th April 2019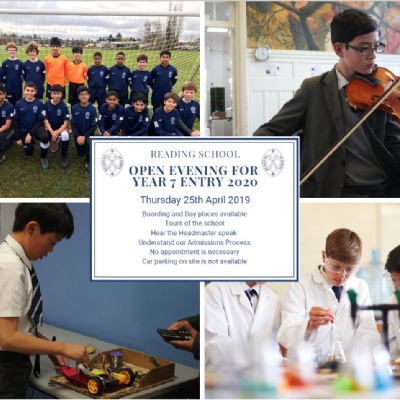 Open Evening for Prospective Day and Boarding Students for Year 7 Entry 2020
16.00 - 20.00 School is open to visitors.
From 16.00 arranged tours of the School. The last tour of the school site will leave at 19.30.
The Headmaster will give talks throughout the evening with the last talk scheduled for 20.00.
No appointment is necessary.
Please note there will be no parking available on the School site on this occasion.
This Open Evening is aimed at those parents wishing to register their son for the Year 7 entrance test for entry in 2020 only. Due to the large volume of visitors on this evening and limited capacity, you are requested to make alternative arrangements for younger children.
We look forward to welcoming you to Reading School.
#BuildingGoodMen #ReadingSchoolFamily #Stateboarding #Boarding #UKBoardingschools #schoolopendays #GoodSchoolsGuide