Teachers triumphant at OR's Football Match – March 2019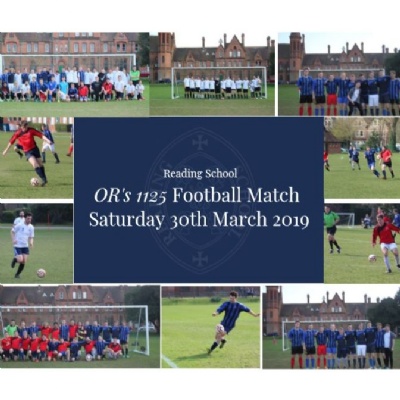 Last Saturday, Spring was certainly here, as we welcomed back over 30 Old Redingensians to the front field for an afternoon of Football.
The first match saw 2014 and 2016 leavers combine to take on a mix 2015 and 2017 leavers. An enthralling match which saw the former take control and gain an early 2-0 lead, before the 2015 and 2017 leavers grabbed a goal back before half time to leave it tightly poised at the interval. However, the introduction of some star players for 2015 & 2017 leavers changed the game, with a last minute winner, a beautiful volley from the edge of the box, sealed a comeback 5-4 win for the younger team.
With legs still fresh, the 2014, 2016 & 2017 leavers joined forces to take on the teachers, who were bolstered by some of the 2015 leavers. Another tight match saw some ferocious battles between the teachers and their former students. By half time, it was 1-1. The leavers team managed to score a second goal in the second half but were defeated in a close encounter after Rob Holmes (OR 2015) struck two impressive goals for the teachers team sealing a 3-2 win for the teachers and 2015 leavers team.
David Starley (OR 2014) reported:
"It was great to return to Reading School after 5 years for the OR 1125 football match. I thoroughly enjoyed the whole day, both on and off the pitch. I also took the opportunity to check out the new chemistry and biology building, which looks great and fits in well with the architecture of the older buildings. It was nice to catch up with a couple of teachers and Mr Robson in particular, I was surprised they still remembered me! Thanks to the organisers for putting on a great event. I will certainly come back next year!"
Scott Proctor (OR 2016) commented:
"A fantastic day, thoroughly enjoyed by all. Great thanks must be given to Olly Davidson (Old Redingensians Sports Coordinator) for organising and refereeing both games, who enjoyed the day being and much less abuse than I usually get refereeing, showing the fun spirit both games were played with."
Mr A M Robson, Headmaster stated:
"It was a great afternoon to see so many of our former students return to Reading School for a fun game of Football and to catch up. Oliver Davidson (OR 2008) and member of the Old Redigensians Association was integral in co-ordinating the match, together with the Jas and Piatrice in the Society Office and Robbie Jackson in forming a staff team. We thank the Old Redingensians Association for supporting this Football Reunion."
We would also like to say a very special thanks to Jas Chhokar & Piatrice Hutchinson (Society Office), Robbie Jackson (First Aider) and all the Reading School Teachers that were able to form a RS Staff Football Team.
For photos of the day please click the link here: Reading School Gallery - OR 1125 Football match
Couldn't make the football on Saturday? Interested in future ORA Sports? Or you might want to propose an alternative interest?
Check out the upcoming events below:
· Friday 21st June 2019- OR's V School Cricket
· Saturday 31st August 2019- OR's Rugby
For further details please contact Jas or Piatrice in the Society Office at events@reading-school.co.uk
#ReadingSchoolAlumni #Football #ORSports #OldRedingensians #ReadingSchoolFamily #TheReadingWay #Reunions #RSKeepInTouch