Floreat Governors' Grand Competition 2019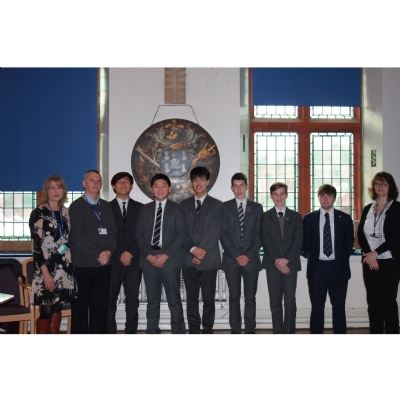 On Friday 5th April 2019, the finale of the Floreat Governors' Grand competition took place at Reading School
This competition, which is in its 4th year of improving the school site and community, develops the students' ability to come up with creative solutions to identified problems and mitigate against potential flaws in their plan before negotiating with real suppliers and external stakeholders to put together a viable budget. They are expected to do market research and present a clear justification for why their idea is needed.
All 120 Year 10 students were involved over the last 6 weeks of Floreat sessions, before voting created a shortlist of 5 ideas, that were then all presented in Big School on the final day of the Lent term to the whole of Year 10 and the esteemed judging panel, which this year included Mrs Belcher (Finance Director), Mr Kenwrick (Chair of Governors), Ms Snow (Estates Bursar) and Joe Barraclough (School Captain).
We are pleased to announce the winners of the 2019 Floreat Governors' Grand Competition where £1,000 is awarded to James (10C), Hyun-Mo (10C), Shunya (10C), Dominic S (10S) and Luke S (10S) to implement their idea of portable basketball hoops in a currently underused area of the school site.
The judging panel were so impressed with the range of ideas that they were also willing to commit to further exploring the viability of 2 other shortlisted ideas, namely a particle extraction filter for the 3D Printer in Art and boot cleaners around the front field. Watch this space.
The Floreat programme is a weekly timetabled session that enables students to embrace opportunities and challenges that will benefit them as good young men of character for the future.
Congratulations to all of the participants, whose presentations were excellent and reflected the desire of the student body to be a force for good in the school community.
Special thanks to Mr G Fairchild (Assistant Head, Teacher of Geography and Floreat Leader) for organising this event.
#ReadingSchoolFamily #Excellence #Floreat #Competition #BuildingGoodMen #GovernorsGrand #Inspiration #DragonsDen